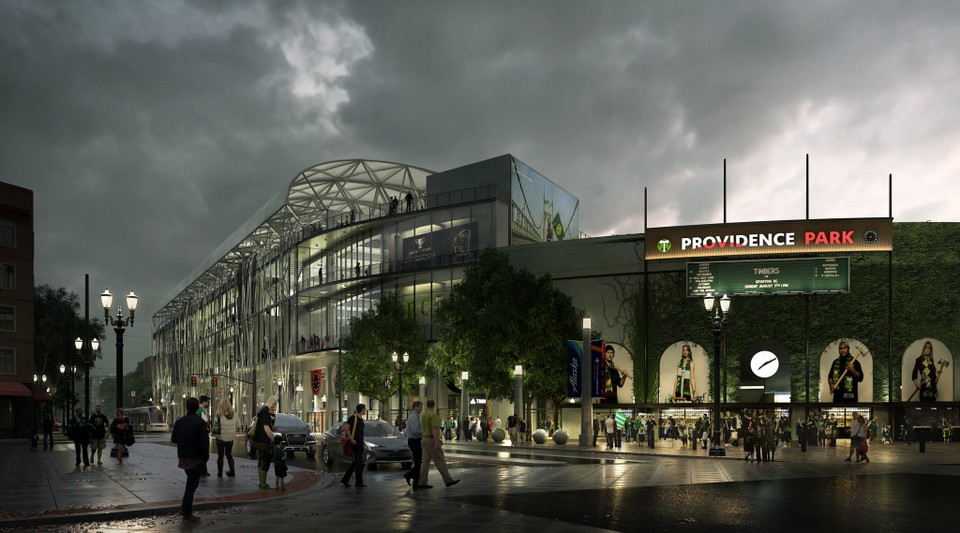 The City of Portland has taken some steps for Providence Park's reopening next month, including last week's approval of an updated Good Neighbor Agreement.
Providence Park has yet to host a home match for MLS's Portland Timbers or NWSL's Portland Thorns this season, as the facility has been closed to accommodate construction on a 4,000-seat expansion on its east side. Its reopening is approaching, however, as the Timbers will host Los Angeles FC in their first home match of the season on June 1.
As construction winds down, the Portland City Council has been finalizing a few relevant agreements. Last Wednesday, the council 3-1 to approve an updated Good Neighbor Agreement, which followed an action from a week prior that saw the council approve an updated traffic management plan. More from The Oregonian/Oregon Live:
Getting approval for the two updated agreements was the last major hurdle that the Timbers had to get over before being allowed to reopen Providence Park following the completion of their $85 million expansion project this summer. The expansion project will add 4,000 seats to Providence Park.
The updated Good Neighbor Agreement includes a new rule that would prevent fans from lining up more than 24 hours before games at Providence Park when the stadium reopens in June. With stadium construction underway at Providence Park, the Timbers instituted a similar rule last season. The new agreement makes that rule permanent.
Construction on the expansion began ahead of the 2018 season, but the work needed to finalize the project–combined with a deep playoff run last fall by the Timbers–required that both the Timbers and Thorns begin their respective 2019 campaigns on the road before returning to Providence Park in June. Once construction concludes, Providence Park will offer more than 25,000 seats.
Rendering courtesy Brooklyn Digital Foundry.

RELATED STORIES: New Providence Park Video Displays Being Installed; Timbers Could Start 2019 Season on Road to Accommodate Providence Park Construction; Providence Park Expansion on Track for Spring 2019 Completion; Providence Park Readies for Returns of Timbers, Thorns; Providence Park Expansion Project on Schedule; Portland Approve Providence Park Expansion Agreement; Providence Park Expansion Pushes Timbers' Home Opener to April; Design Commission Signs Off on Providence Park Expansion; Portland to Consider New Terms for Providence Park Tax Breaks; Portland Moves Forward with Providence Park Expansion; Timbers Pitch Providence Park Expansion to City; Portland Timbers Pitch Providence Park Expansion; Merrit Paulson Discusses Providence Park Expansion; Portland Timbers Mapping Out Stadium Expansion; Portland Timbers Mulling Providence Park Expansion