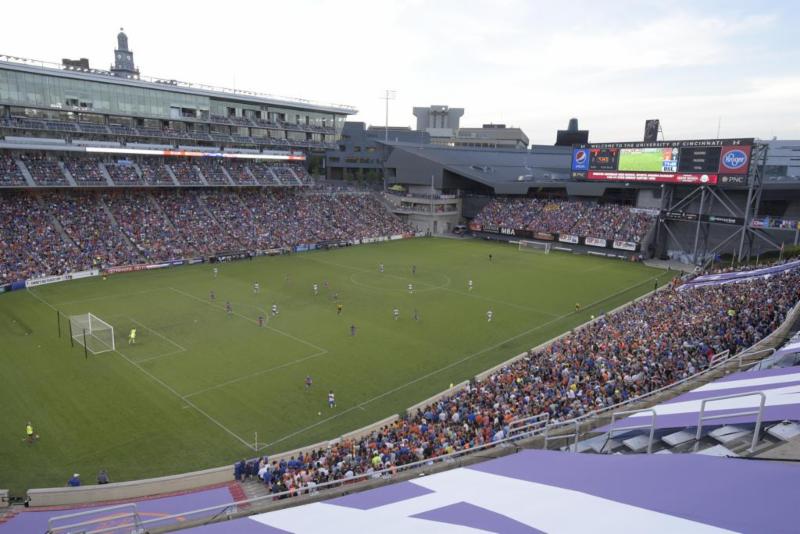 FC Cincinnati will play its first home MLS match on Sunday, representing the latest milestone for the burgeoning organization.
Starting with its first season of USL play in 2016, FC Cincinnati quickly became one of the biggest success stories in United States professional soccer. It set numerous USL attendance records at Nippert Stadium over three seasons at the Division II level, and finished the 2018 season with a per-game average of 25,717. Some of that success—combined with plans for a new stadium on Cincinnati's West End—helped facilitate a successful MLS expansion pitch, as the league approved FC Cincinnati's bid last May to set the stage for a 2019 debut.
In the period since, FC Cincinnati has undertaken plenty of tasks to prepare itself for MLS play. From a facilities standpoint, the highlight of that is the ongoing planning for the new West End stadium—which is currently slated for a 2021 opening. For the time being, however, FC Cincinnati enters MLS with plenty of intrigue as its 24th team.
One anticipated factor with FC Cincinnati is whether its past attendance success in USL will translate to MLS. All indications point to yes, as the club announced recently that it had eclipsed the mark of 20,000 season tickets sold. Nippert Stadium has a capacity of just over 33,000 for professional soccer, so from that standpoint Cincinnati will have a hard time competing with Atlanta and Seattle, two teams that play in NFL facilities and represent the league's heavy hitters in terms of attendance. However, Nippert Stadium's capacity is still larger than many of soccer-specific stadiums that have opened in recent years, so FC Cincinnati will likely outpace a large share of MLS in terms of attendance this season.
Although it will not be the club's long-term MLS home, Nippert Stadium did undergo some upgrades to meet the higher standards that come with FC Cincinnati's move from Division II to Division I soccer. Perhaps the highlight of those upgrade is a new SportgrassPro Bolt monofilament system turf from The Motz Group. Along with providing a higher quality playing surface, the new turf is also expected to facilitate an easier transition between professional soccer and college football for the University of Cincinnati.
MLS play is also the latest entry in Nippert Stadium's long history, which dates back over 100 years. FC Cincinnati's success, combined with the University of Cincinnati's commitment to investing in upgrades, has given Nippert Stadium a new sense of energy in recent years, one that should give it momentum well beyond FC Cincinnati's move to a new stadium.
Notably, FC Cincinnati's interim stay at Nippert Stadium will resemble one made by another major professional sports team more than 50 years ago. Just as FC Cincinnati will play at the facility for an interim period until its new stadium opens, the AFL's Cincinnati Bengals played at Nippert Stadium for the 1968 and 1969 seasons while awaiting 1970's completion of Riverfront Stadium.
FC Cincinnati's first home MLS match will be played Sunday, March 17 against the Portland Timbers. Not only will the game mark a significant date for the club and its fans over a rapid rise led the organization to MLS, but it could be the launch of bigger things to come for FC Cincinnati going forward.
Image courtesy FC Cincinnati.
This article appeared in the weekly Soccer Stadium Digest newsletter. Are you a subscriber? It's free and easy to subscribe: Just click here!