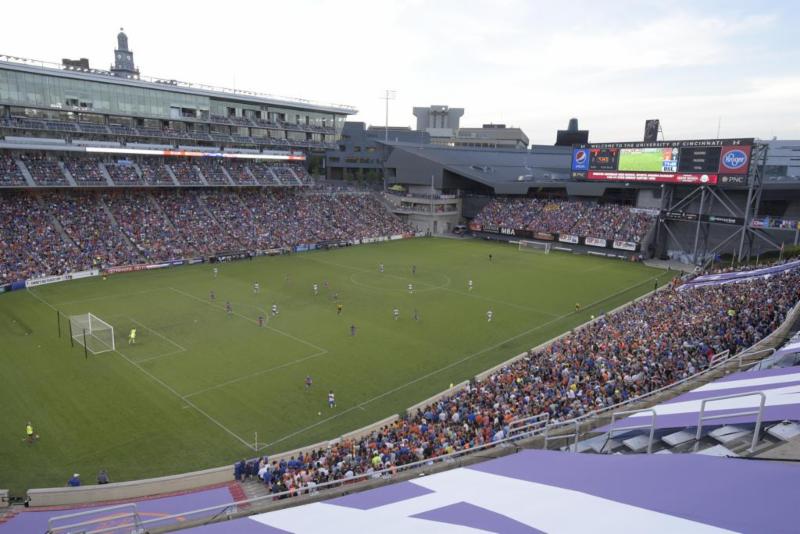 FC Cincinnati's upcoming inaugural MLS season is being met with a big response, as the club announced Wednesday it has sold more than 20,000 season tickets. 
The club's season ticket sold so far puts its fourth in MLS among season ticket sales in 2019. Additionally, the figure ranks as the third most among all MLS expansion teams' first-year sales behind Atlanta in 2017 and Seattle in 2009.
To celebrate the achievement of reaching the 20,000-Season Ticket Member mark, FC Cincinnati has planned a community-wide beautification project in cooperation with Keep Cincinnati Beautiful and more than 50 Cincinnati-area community organizations – including four West End groups.
In June, FCC will plant 20,000 blue and orange flower blooms around the city, the majority of which will be planted around the various "Welcome to" neighborhood signs in Cincinnati.
"There's been a fun excitement for our first season in MLS and we felt it even before last May's announcement," FC Cincinnati President & General Manager Jeff Berding said. "Those who have supported us from the start have helped fuel this organic, fan-driven passion for soccer in the city. We've found people who come to just one game are then hooked, and start identifying themselves as FCC fans almost immediately. It's been a key factor in us reaching the 20,000 season-ticket member mark before the start of the season."
FC Cincinnati was awarded an MLS expansion franchise on May 29, 2019 – just 277 days before the team takes the field for the first time this coming Saturday in Seattle. It's the fastest a team has had between its announcement and first game since the most recent run of expansion awards that started with Seattle's arrival in 2009.
Overall, it's the third-fastest transition in league history, behind San Jose's 260 days between the 2007 announcement that the team was returning and its 2008 first kick; and Real Salt Lake's 262 days between its 2004 announcement and starting play in 2005.
In 2018, FC Cincinnati averaged a USL-record 25,717 fans at Nippert Stadium. That figure was more than double the second-place USL team in Sacramento (11,311), and would have ranked fourth in MLS last season behind Atlanta (53,002), Seattle (40,641) and Toronto (26,628).
"One of the first things MLS executives and league colleagues ask about is the game day atmosphere at Nippert Stadium. It truly stands out as one of the most dynamic scenes in North American soccer – not just MLS. Team after team, we hear that they are excited to come to Cincinnati this year. And that excitement from around the league is a testament to the fan support we have here in the Queen City," Berding said.
FC Cincinnati will play its inaugural match on Saturday, when it travels to Seattle to visit the Sounders. The club's regular-season home opener at the University of Cincinnati's Nippert Stadium (pictured above) will be a March 17 match against the Portland Timbers. Current plans call for the club to spend its first two seasons of MLS play at Nippert Stadium, before opening a new soccer-specific stadium on Cincinnati's West End in 2021.
Image courtesy FC Cincinnati.