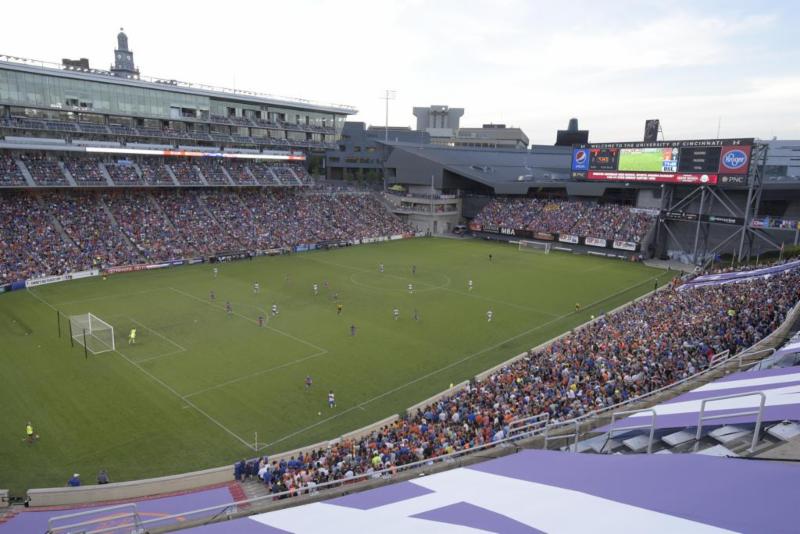 FC Cincinnati's success at Nippert Stadium is just the latest milestone in the University of Cincinnati facility's storied history–one going back over 100 years, reflecting how integral the stadium is to the community.
Nippert Stadium dates back to 1916, but sports have been played there since 1910 at what was named Carson Field. Named for Dr. Arch I. Carson, a school administrator who launched football at the University of Cincinnati, Carson Field featured a horseshoe-shaped construction with wooden bleachers providing view of the action. But the bleachers were reportedly so poorly construction that fans eschewed them, leading the decision to build a concrete-and-steel stadium. That became Nippert Stadium, home to Bearcats football ever since, albeit with many changes and additions over the years.
It was named for James "Jimmy" Gamble Nippert, a former Bearcat football player and starting center who was injured in a Thanksgiving Day, 1923 game. His injury, a deep cut on his shinbone, wasn't considered serious at first, but in the course of a few weeks he developed an infection and then blood poisoning, passing away on Christmas morning. (His final words: "Five more yards to go — then drop.") In honor of Nippert, his grandfather, James N. Gamble of the Procter & Gamble Co., donated $270,000 to upgrade Nippert Stadium with expanded locker rooms and medical facilities, completed near the end of the 1924 season.
The thing about Nippert Stadium: it changes with the times, as there have been multiple renovations, additions, and reconfigurations over the years. It has always been a crossroads in the middle of the University of Cincinnati campus, however, making it central in the lives of so many students over the years.
So it's not totally surprising FC Cincinnati would be a success playing out of such a beloved facility. And FC Cincinnati took this running start and turned into one of 2018's biggest sports stories. Just when you thought we're reached peak FC Cincinnati, the front office turns on the afterburners and soars even higher: attendance for 2018 at this moment is at 25,086 fans per match, some 18 percent over 2017.
FC Cincinnati isn't the first pro team to call Nippert Stadium home, by the way. Before the opening of Riverfront Stadium, the AFL's Cincinnati Bengals played at Nippert Stadium for the 1968 and 1969 seasons, as Paul Brown laid the foundation for the NFL team's success.
Image courtesy FC Cincinnati.
This article first appeared in the weekly Soccer Stadium Digest newsletter. Are you a subscriber? Sign up here for your free subscription!