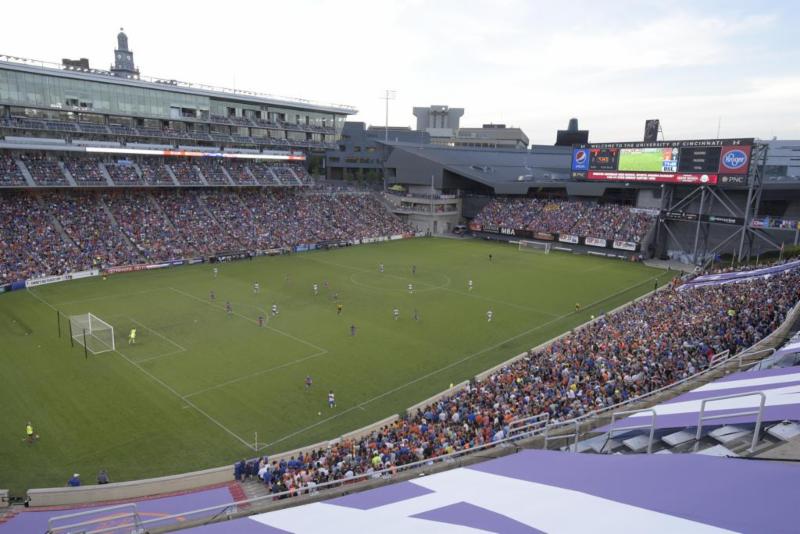 Following the 2019 season, FC Cincinnati will no longer sell general admission seating for matches at Nippert Stadium.
Since its inaugural USL season in 2016, FC Cincinnati has provided some form of general admission seating for home matches. The practice has been carried over for FC Cincinnati's inaugural MLS season in 2019–covering Nippert Stadium's sections 113, 114, and 115–but will not return in 2020, with current general admission seats to be converted into affordable reserve seating.
In making the decision, the club considered a number of factors. FC Cincinnati is slated to open a new stadium on the city's West End in 2021, and that facility will not offer general admission seating. Additionally, the club believes that the increasing crowds that have come with MLS play have detracted from the fan experience in the general admission seating sections. More from the Cincinnati Enquirer:
It was during the peaks in fan interest when the GA experience became problematic, [FC Cincinnati vice president for sales Jeff] Smith said.
"We sold out of general-admission and then, this is the key to this: They're bleacher seats. You set down a couple of coats, spread out a little bit, you mark your territory in a way that saves some seats,"  Smith said. "Pretty soon, you run out of seats and general admission ticket holders can't sit down. It wasn't fun. It wasn't an enjoyable experience. People didn't even have seats. Then we had to start carving out overflow areas and that's a bad business model when you're taking up reserved seating.
"So, this is the last year for general admission because as we transition to the new stadium, there will be no general admission. There will be super-affordable, entry-level pricing, but we've slowly got to transition out of the general-admission mentality for the new venue." 
FC Cincinnati compiled strong attendance numbers over its years of USL play, including a per-game average of 25,717 fans in 2018. The figure has risen in the first season of MLS play, as FC Cincinnati is drawing an average of 28,193 fans per match thus far in 2019.
Image courtesy FC Cincinnati.