We end 2018 with a countdown of the 10 biggest stories of the year on Soccer Stadium Digest, as chosen by editors and partially based on page views. Today, #4: MLS stadium debuts in Washington and Los Angeles. 
Two new soccer-specific stadiums made debuts in MLS this season – one on each coast – each one fitting perfectly in its new surroundings.
On the east coast, Washington's D.C. United began play at Audi Field on July 14. The club had been playing since 1996 at multi-purpose RFK Stadium. The new stadium is seen as a kind of rebirth of the club, completely changing the fan experience. Opening night was a sellout – the stadium shared its debut with English legend Wayne Rooney, who made his D.C. United debut as a 58th minute sub.
It took more than ten years for a soccer-specific stadium to become a reality in D.C. After years of wrangling and failed proposals at sites around the area, the club has found a home in the Buzzard Point neighborhood, adding to Nationals Park—home to MLB's Nationals—as part of an area of new development.
The stadium is unique in that it was built on a site less than 10 acres, which provided some unique challenges to Populous, the project architects. It has a capacity of 20,000 for soccer, with significant areas for suites, premium seating and social spaces. The stadium was also built with sightlines to take advantage of its capitol location – with views of national architectural icons.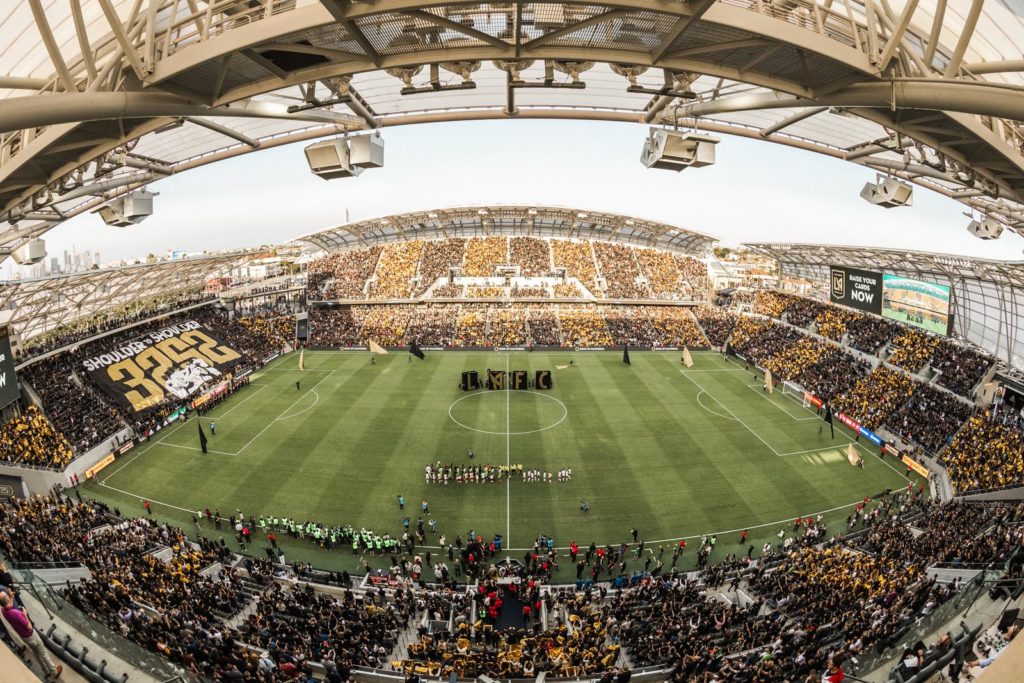 On the west coast, Los Angeles' expansion team LAFC began play at the brand-new Banc of California Stadium on April 29.
The new $350 million, 22,000-seat stadium is the first open air stadium built in Los Angeles since Dodger Stadium in 1962, and is situated in Exposition Park, adjacent to the L.A. Coliseum (currently undergoing its own renovation by USC). It is expected that in addition to LAFC, the stadium and the surrounding park and stadia will be the central hub of the 2028 Olympic games.
Notable in the new LAFC stadium are several features that reflect the unique character of Los Angeles.
In a city known for VIP glitz and celebrity glamour, special attention was paid to the VIP areas of the stadium, including field-level suites (also a feature of Audi Field) and a press-box level suite area, the Sunset Club, featuring swimming pools. In a nod to the California sun, the stadium seating is covered by a roof and an exterior exoskeleton with a thin ETFE film applied to shade spectators, but light-permeable enough to eliminate shadow.
On the east coast, a founding MLS club finally got its own home, intimate and shoehorned into a vibrant urban corridor, drastically reversing fan experience after years of a less-than-ideal multi-purpose stadium.
On the west coast, a new MLS club got a home befitting its La, La Land location and celebrity-owner cred, adding another dazzling facility for the city and its fans.
On both coasts is 2018, MLS continued building the game through soccer-specific, right-sized stadiums. This year's crop was, yet again, a major success story for American soccer.
Image of Audi Field by Zach Spedden. Image of Banc of California Stadium courtesy Los Angeles Football Club. 
Here's our Top Ten of 2018 to date:
Best of 2018, #5: FC Cincinnati's MLS Expansion Bid Approved
Best of 2018, #6: St. Louis's MLS Hopes Revived by New Bid
Best of 2018, #7: Nashville MLS Stadium Plans Finalized
Best of 2018, #8: New Louisville City FC Stadium Plan Makes Progress
Best of 2018, #9: Atlanta United FC's Successful Sophomore Season 
Best of 2018, #10: New Beckham Group Stadium Plan Emerges in Miami