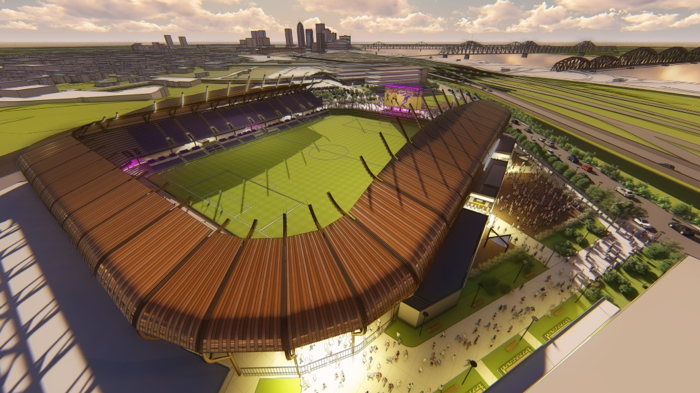 We end 2018 with a countdown of the 10 biggest stories of the year on Soccer Stadium Digest, as chosen by editors and partially based on page views. Today, #8: Planning for a new Louisville City FC stadium makes strides. 
Louisville City FC made considerable strides this year in planning its upcoming stadium, completing several tasks for the project. Those steps, combined with the club's continued success in Division II USL, are not only building anticipation for the stadium's 2020 opening, but appear to be boosting hopes of eventually luring MLS to the city.
As has been in the works for several years, Louisville City FC is moving forward with plans for a new soccer-specific stadium in the city's Butchertown neighborhood. Planned to allow the club to depart Louisville Slugger Field–a facility designed for baseball's Louisville Bats (Class AAA; International League)–after next season, the new soccer-specific stadium will anchor a larger development initiative in the surrounding area.
In May, the Kentucky Economic Development Finance Authority (KEDFA) approved the use of tax-increment financing for the project, allowing for a key piece of the plan to move forward. A groundbreaking ceremony was held in June, while it was announced in November that Messer/Harmon JV would lead the construction process.
Plans for the stadium itself have attracted plenty of attention. The current design concept calls for it to feature an initial seating capacity of 11,300, with room to expand down the road should Louisville land an MLS expansion club. Louisville has been speculated as a potential expansion contender for the future, as it has had consistent attendance success in USL. Planning a new soccer-specific stadium that could be upgraded to accommodate MLS is a plus, and playing in a solid minor league/collegiate sports market with major league ambitions is as well. However, the club's focus is on continuing its success in the USL and opening the new stadium rather than MLS, making any expansion bid an unlikely proposition for now.
Still, even without MLS, the new Louisville City FC stadium plan is notable in many respects. It will reflect ongoing trends by following the soccer-specific model, and is being constructing in an urban setting as part of a larger development project. Furthermore, it is also a big step for a club that has had ambitions of its own facility for years, and will close 2018 with some of its most significant progress to date.
Rendering courtesy HOK Architects. 
Here's our Top Ten of 2018 to date:
Best of 2018, #9: Atlanta United FC's Successful Sophomore Season 
Best of 2018, #10: New Beckham Group Stadium Plan Emerges in Miami