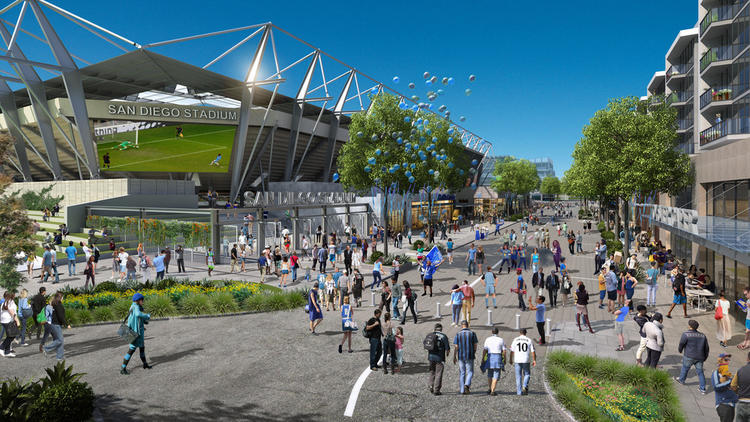 We end 2018 with a countdown of the 10 biggest stories of the year on Soccer Stadium Digest, as chosen by editors and partially based on page views. Today, #3: 2018 MLS expansion ends up being a topsy-turvy process.
When we looked at the MLS expansion prospects in January 2018, the lead contenders were San Diego, Sacramento and San Antonio. My, how things have changed.
By that time Anthony Precourt was already seeking to move the Columbus Crew to Austin, but what was not clear was how Columbus could fit into any future expansion. San Diego investors were months away from a referendum that decided the fate of SDCCU Stadium. San Antonio had its ducks in a row with solid ownership and support of local elected officials.
The MLS hopes for those three cities have since faded. San Diego voters rejected a plan for SoccerCity and instead chose a plan for San Diego State to redevelop the stadium site with a new facility. A new stadium in Austin basically killed the chances of San Antonio landing a team. And Sacramento owners still pursue a big investor that could revive their expansion hopes.
And what were the long shots emerged as leaders. Cincinnati went from a long shot to landing an MLS expansion team after putting together a plan for a new stadium—a plan that almost died more than once. Phoenix was considered a long shot, but as time went on the merits of their plan (a new stadium, solid ownership in what should be a natural market for MLS) emerged as mighty appealing. New ownership for the NFL's Carolina Panthers also raised hopes of that city landing a team.
So where do we stand as we enter 2019? One expansion slot remains as MLS awarded expansion teams to Miami and Columbus, replacing the Crew. It will be interesting to see the expansion process develop this year—but don't be surprised if there are many surprises along the way.
Here's our Top Ten of 2018 to date:
Best of 2018, #4: MLS Stadium Debuts
Best of 2018, #5: FC Cincinnati's MLS Expansion Bid Approved
Best of 2018, #6: St. Louis's MLS Hopes Revived by New Bid
Best of 2018, #7: Nashville MLS Stadium Plans Finalized
Best of 2018, #8: New Louisville City FC Stadium Plan Makes Progress
Best of 2018, #9: Atlanta United FC's Successful Sophomore Season 
Best of 2018, #10: New Beckham Group Stadium Plan Emerges in Miami