Ground was broken Monday for a New England Revolution training center, marking a major advancement for the organization's facilities. 
Privately financed at a cost of $35 million, the new training center will be constructed on land behind Gillette Stadium in Foxborough. The complex will encompass 68 acres, and feature 42,000 square feet of building space, along with three full-sized training fields, including two natural grass and one turf. Under the current schedule, the two natural grass fields will be complete by next spring, with the full training center expected to be up and running in the summer of 2019.
While the training center should provide a major boost to the Revolution, much of the focus on the team's facility situation has been on its long-term stadium plans. There has been discussion that Revolution investor/operator Robert Kraft and investor/operator Jonathan Kraft could seek to build a soccer-specific stadium for the club, allowing it to depart Gillette Stadium, which it shares with the Kraft-owned Patriots of the NFL. The club did not comment about potential stadium sites during Monday's event, but it was noted that plans for a training center in Foxborough would not prevent it from building a new soccer-specific venue somewhere off-site. More from The Boston Globe:
The Krafts would not comment on proposed sites for a stadium, but the Frontage Road/Widett Circle area could be among the favorites….
"This is not precluding us from doing something with a stadium; we are trying to pursue a stadium off-site," Revolution president Brian Bilello said. "But the amount of land we have here gives us flexibility.
"We wanted to make sure our site wasn't landlocked. If we needed another field or a residency program or if just the way we train athletes means in the future we need twice as much space.
"For the amount of money we're investing in this, it can't last five years. It needs to last 30 years, 50 years, in one way shape or another, and if it needs to be upgraded, it can be."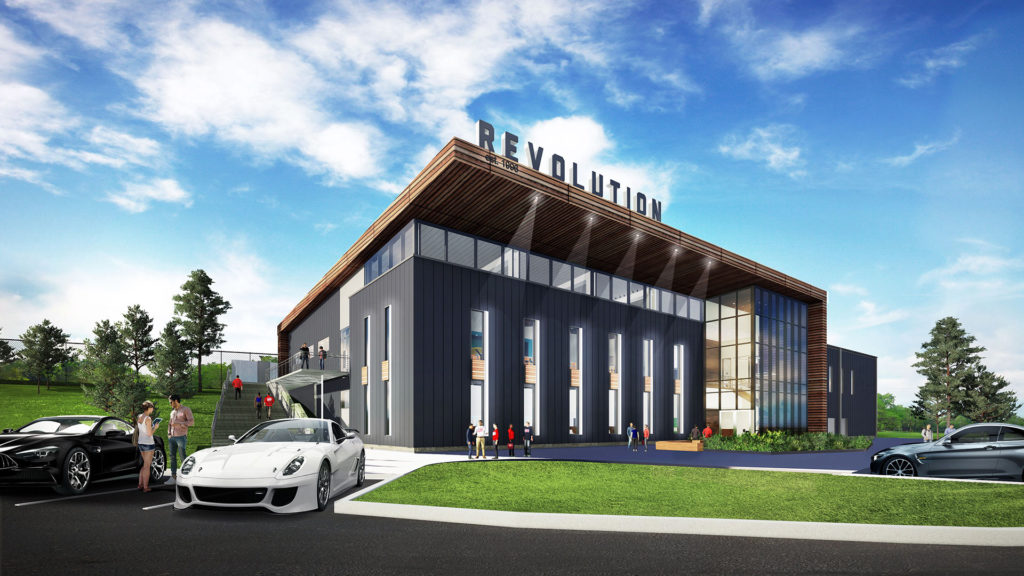 Speculation has been that the Revolution will look to construct a soccer-specific in the Boston area. At one point, the organization was pursuing a stadium at the Bayside Exhibition Center in Dorchester, an effort that fell through last year when negotiations ended. Discussion over a potential new stadium seems likely to continue, but the Revolution's new training center should certainly provide a boost to its facilities over the long haul.
Renderings courtesy New England Revolution.
RELATED STORIES: Boston Soccer-Specific Stadium Still Targeted by Revolution; New New England Revolution Stadium on Tap?; Boston Soccer-Specific Stadium For Revolution Still Discussed; With Dorchester Dead, Krafts Mull New England Revolution Stadium Locations; New England Revolution Stadium Discussions Cease; New England Revolution Hit Roadblock in Stadium Talks; Baker Open to New England Revolution Stadium; Boston Mayor Expresses Traffic Concerns about Bayside Site; Revolution Began Bayside Pitch Last Fall; Bayside Expo Center Emerges as Potential Site for New England Revolution Stadium;  Krafts bring in Goldman Sachs on new Boston MLS stadium plan; New Boston MLS stadium talk heating up again; New Revolution stadium in motion?; South Boston site eyed for new Rev stadium; After Revolution uprising, will we see soccer-only stadium in Boston?