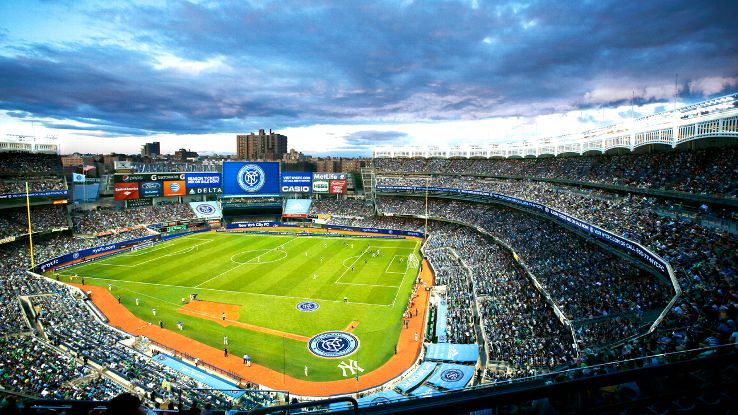 The on-again, off-again New York City FC Bronx stadium may be close to being permanently off, as local support for a billion-dollar development centered on a new MLS facility seems to be eroding.
The evidence for this eroding support comes from a poll of Bronx residents commissioned by the 161st Street Business Improvement District regarding a potential New York City FC Bronx stadium at River Avenue and East 153rd Street. This is not a new project; it's basically the same plan pitched by NYC FC since the team debuted seven years ago. The results of the poll showed support for the project from 56 percent of the residents, but that result is down from the 67 percent showing support at the start of the pandemic. In addition, 60 percent of the respondents want to see a program offering reduced-price stock offering in the stadium to local residents as well as $100 million annually in property taxes. (This would be quite the feat; NYC FC is estimated to have generated $45 million in revenues in 2019.)
The on-again, off-again proposal was revived this summer, but went nowhere after talks between the Economic Development Corporation and the team failed to yield a plan that included the stadium, retail, affordable housing and a hotel. A central part of this disagreement: the future of parking ramps opened when Yankee Stadium opened. The Yankees want control of 5,000 spaces; the city is not amenable. Linking the two issues may not have been the best of ideas. From The City:
Two sources familiar with the negotiations say that the Yankees will come back to the table only if those parking spots are included — or else, one said, they'll consider starting over with a site in Queens. NYCFC had previously eyed a parcel in Willets Point, near Citi Field, where the team has also played home games, as a spot for the soccer stadium.
Levine and the Yankees declined to comment. City and state lobbying records show New York City FC real estate attorney and team board member Martin Edelman continuing to receive $10,000 a month for his services.
RELATED STORIES: Report: New York City FC Close to New Stadium Deal; Poll: South Bronx Residents Favor Potential NYCFC Stadium; Bronx Reportedly in the Mix for New NYCFC Stadium