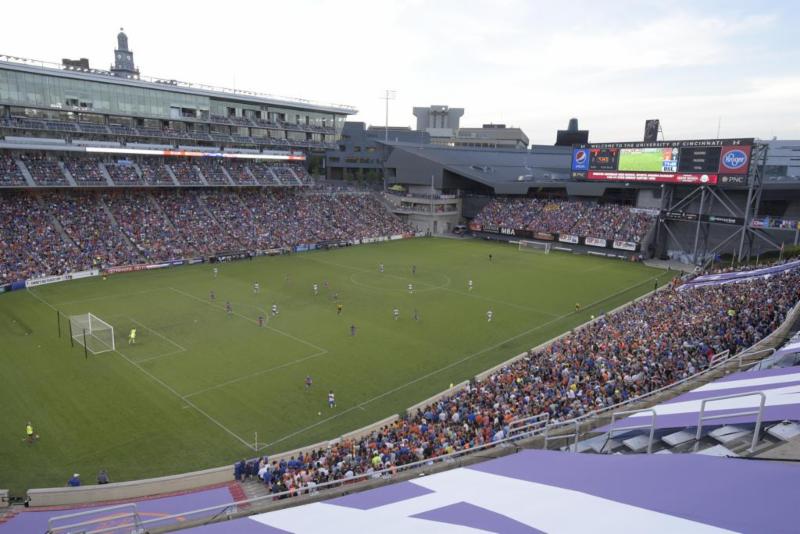 FC Cincinnati's first home MLS match was a success, with over 32,000 fans turning out to Nippert Stadium on Sunday for the club's victory over the Portland Timbers.

After having its expansion bid formally approved by MLS last May, FC Cincinnati is beginning play in the league this season as its 24th club. FC Cincinnati's home opener was on Sunday, and the anticipation that it would be met with a high turnout by the team's fan base was certainly realized.
The club drew a reported sold-out crowd of 32,250 to the match, which resulted in Cincinnati defeating Portland by a final of 3-0. Not only did the match end with success on the pitch, but the energetic fan base stood out to MLS commissioner Don Garber, showing that the support resonated with the league. More from the Cincinnati Enquirer:
"I'm convinced that soccer can be successful in any market in this country at the MLS level," said Don Garber, the MLS commissioner, who made an appearance at halftime. "I am 100 percent sure there isn't a market MLS wouldn't succeed in if we have the right owner and stadium plan."
Sounds like us.
"(Cincinnati) was a good part of it," Garber said. "I never really thought of Cincinnati as a real soccer city. To see them stand for the first 45 minutes. . . it's a heartwarming day."
During FC Cincinnati's time in Division II USL, the club built a strong following that translated into several league attendance records being set at Nippert Stadium. While it is possible that not every MLS match will be watched by a crowd of 32,000-plus, Sunday's attendance figure could still set the tone for a solid inaugural season in MLS.
FC Cincinnati will spend the 2019 and 2020 seasons at Nippert Stadium, before moving into a new soccer-specific venue that is being constructed on the city's West End. The new facility is scheduled to be completed for the 2021 season.
Image courtesy FC Cincinnati.
RELATED STORIES: FC Cincinnati Entering New Era With First Home MLS Match