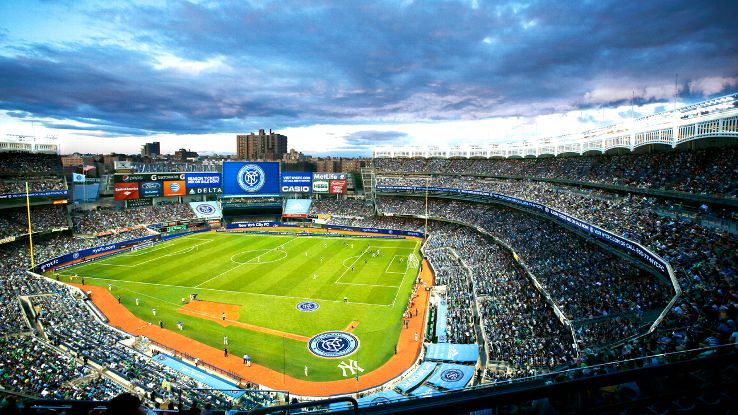 New York City F.C. and its partner will submit a proposal to build a new stadium at Belmont Park, but it appears that other sites are still being considered. 
Earlier this week, we noted that it appeared that NYCFC was prepared to respond to a request for proposal (RFP) from Empire State Development concerning land at Belmont Park. With the deadline for that bid set for Thursday afternoon, it is being reported that NYCFC will partner with Related Companies on a pitch that includes a plan for a new soccer stadium.
NYCFC is still seeking an alternative to Yankee Stadium, where it has played its home games since beginning MLS play in 2015. While the Belmont Park site is on the team's radar, there are other locations in the New York City area that could serve as options. More from The New York Times:
"N.Y.C.F.C. is in very active pursuit of a new home," the team said in a statement.
That pursuit apparently includes other options. N.Y.C.F.C., which currently plays home games at Yankee Stadium, and Related expressed interest earlier this year in an Empire State Development Corporation site at the Harlem River Yards, a 12.8-acre parcel on the Harlem River in the Mott Haven section of the Bronx, according to a person familiar with the discussions. And the team is investigating at least two sites in Willets Point, Queens
A fifth potential site, a nine-acre parcel near Yankee Stadium that once seemed the team's most promising option, could also be back in play. That site, between the Major Deegan Expressway and East 153rd Street, is owned by an elevator parts manufacturer, and the sides were close to a deal for it in 2013 before the talks fell apart.
But there has been renewed interest in discussions since the company, GAL Manufacturing, agreed to sell a controlling stake to a San Francisco-based holding company, Golden Gate Capital, in May. Golden Gate Capital did not respond to a request for comment.
This is not anticipated to be the only sports-related proposal for the Belmont Park site that surfaces in response to the RFP. The NHL's New York Islanders are expected to partner with Sterling Project Development (controlled by the Wilpon family, the New York Mets owners) and Oak View Group on a bid that will include a new arena. It is also not the first time that a bid relating to professional soccer has been made for the site. The previous New York Cosmos had a proposal there for a development anchored by a new stadium for the NASL team.
RELATED STORIES: NYCFC Reportedly Making Run for New Belmont Park Stadium; Patricof: No News on NYCFC Stadium Search; New York City FC Partners to Build Fields in New York; Yankee Stadium for Soccer: Good and Bad; NYC FC Makes MLS Yankee Stadium Debut; NYC FC, Orlando City SC enter season on different tracks; Owners mull new NYCFC Queens stadium site