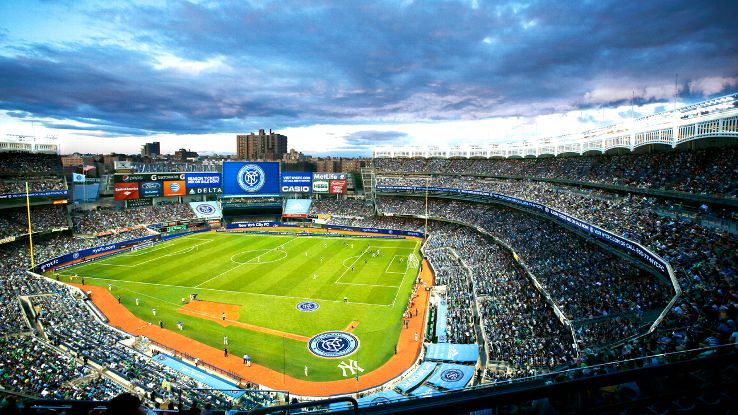 NYCFC owners are expected to make a bid for a new Belmont Park stadium, as the MLS team could end up competing with a host of heavyweights seeking bring a new NHL New York Islanders arena to the site.
This would not the first time a pro soccer team has made a run for the site. The previous New York Cosmos ownership had a proposal there for a development anchored by a new stadium for the NASL team.
Empire State Development, which controls the site and had previously evaluated the Cosmos bid, is seeking proposal for a redevelopment at the racing facility. The deadline is Thursday. It's been no secret that the Islanders were working on their own bid in partnership with Sterling Project Development (controlled by the Wilson family, the New York Mets owners) and Oak View Group, the arena management and development firm working on a number of new projects nationally, including a potential redevelopment of Seattle's KeyArena for NHL and NBA action. Yes, we're talking about a potential Yankees vs. Mets battle here; the Yankees are part of the NYC FC ownership group, with the team playing home matches at Yankee Stadium.
Still, it's not clear whether NYC FC really wants the Belmont Park site (located in Elmont, just outside Queens) or whether another area site is preferred. Still, by putting in a bid, NYC FC will have options as ownership continues to work on a new-stadium plan. From Newsday:
Belmont is not NYCFC's preferred choice for an arena location, the source said. The soccer club is looking at a handful of other spots within the city limits that it prefers over Belmont, which is state-run property in Elmont, just outside the Queens border.
But with a need for an arena and an open request for proposals specifically seeking sports and entertainment options, the person said it was still worth submitting a proposal. The person declined to identify the New York City locations.
The person, who is not authorized to publicly discuss the proposal and spoke on condition of anonymity, said NYCFC is partnering with developer Related Co. on its submission. A NYCFC spokesman declined to comment. Related did not return messages seeking comment.
RELATED STORIES: Patricof: No News on NYCFC Stadium Search; New York City FC Partners to Build Fields in New York; Yankee Stadium for Soccer: Good and Bad; NYC FC Makes MLS Yankee Stadium Debut; NYC FC, Orlando City SC enter season on different tracks; Owners mull new NYCFC Queens stadium site