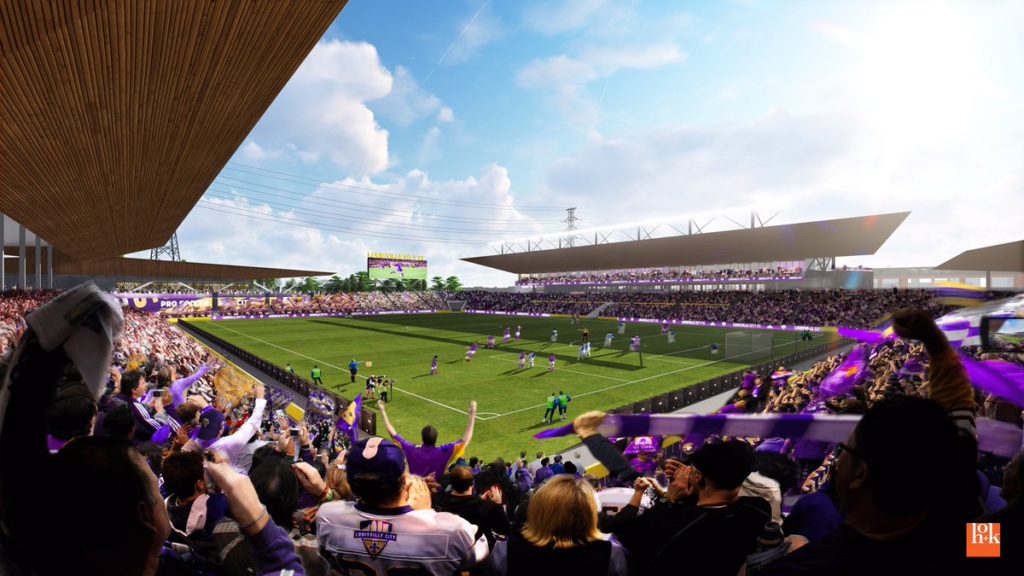 Louisville City FC is continuing to pitch its proposed new stadium, and plans to present more details to the city within 60 days.
Earlier this year, Louisville City FC released the concept for its stadium proposal. The team's concept calls for a new 10,000-seat facility to be constructed in Louisville's Butchertown neighborhood, where it would anchor a 40-acre development.
Backers of the plan had a chance to discuss it on Thursday, when a rally was in support of the proposal was hosted by Louisville Coopers and the Butchertown Neighborhood Association . During that event, it was indicated that the organization is honing a few aspects of the plan. Louisville City board members Tim Mulloy and John Hollenbach told the Courier-Journal that the economic forecast could be presented to the Metro Council within the next 60 days, which is a key step in the longer planning process:
The "nitty-gritty" isn't clear just yet. The club will ask the city to acquire land it currently has under option, and then the city must authorize a development district before the club can apply to the state for tax-increment financing.
Hollenbach previously said the club will seek between $30 million and $35 million in TIF assistance from the state
The entire plan, however, hinges on approval from Metro Council.
"The most important thing is to not put the city and taxpayer dollars at risk," said Councilwoman Barbara Sexton Smith, whose district includes the Butchertown site. "It needs to be beneficial to all. It's not just a stadium, but a lot of other development."
Louisville City FC has been seeking a soccer-specific stadium in place of its current home, Louisville Slugger Field. The club is targeting a debut of the stadium by the 2020 season.
RELATED STORIES: Louisville City FC Selects Site for Proposed Stadium; Louisville City FC Moves Forward With Stadium, Taps HOK For Design; Louisville City FC Could Tap New Albany for Stadium; New Leadership for Lousiville City FC; Louisville City FC Study Released; Results of Louisville Study Forthcoming; Louisville City: Too Small for MLS, Too Big for USL?; New Louisville City FC stadium in works?; Louisville City FC: Build for USL, expand for MLS