Louisville City FC has announced that it is seeking to construct a new soccer-specific stadium in the city's Butchertown neighborhood. 
The USL franchise has been looking to move to a new facility, as it currently plays its games at Louisville Slugger Field, the home ballpark for Minor League Baseball's Louisville Bats. As announced on Wednesday, five parcels of land are under option in Butchertown, where 40 acres would be converted into a 10,000-seat soccer stadium as well as mixed-use development, including offices and retail.
Released last summer, a study made the case that Louisville could support a 10,000-seat stadium that could expanded down the road.
"Since receiving the results of the study, our board has explored a number of potential stadium locations, but none measured up to this site as a long-term home for Louisville City FC," said club chairman John Neace in a statement. "We're ready to solidify the future of LouCity, an important community asset."
The stadium would be constructed adjacent to Interstates 64 and 71, have pedestrian access to the Big Four Bridge, and would be within view of downtown Louisville.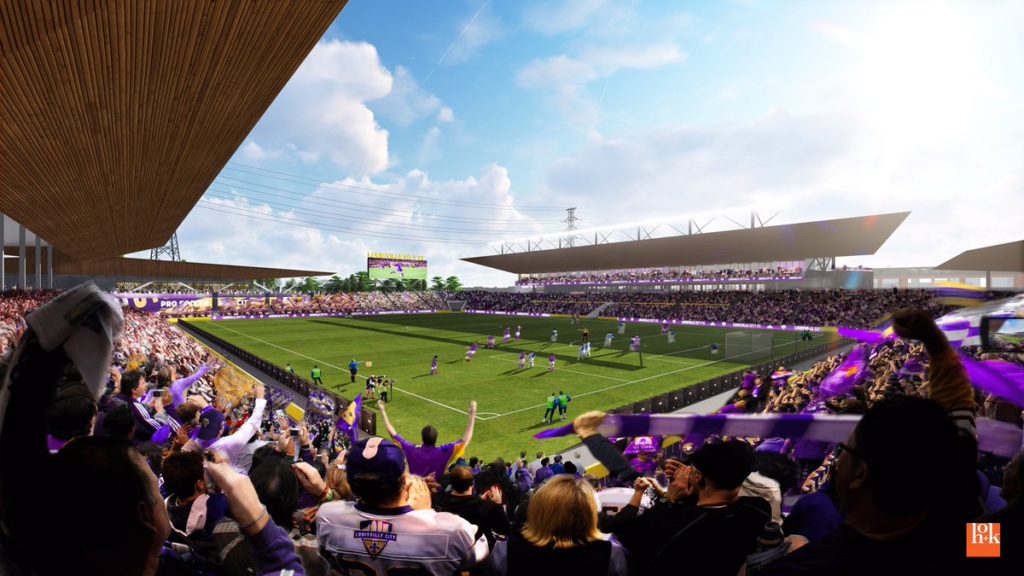 One of the biggest keys to the project will be its funding. Louisville City FC has called on a private-public partnership for the plan. However, there are still some details that will need to be ironed out with local and state officials. More from the Courier-Journal:
Louisville City FC board member John Hollenbach said the team hopes to complete a financing plan, which will include asking the state for tax-increment financing, by the end of the year and break ground on the stadium by spring 2018.
Owners of Louisville City FC have five parcels of land under option, which board member Mike Mountjoy said the club will transfer to the city to buy the land. The site includes and surrounds the former Challenger Lifts Inc. site at 200 Cabel St. The deal also includes adjacent plots previously occupied by Marshall's Auto Parts, Extra Space Storage and an above-ground oil tank facility.
The team plans to buy back the property as it is developed. Owners declined to provide details of how much purchasing the land would cost, citing a confidentiality agreement and ongoing negotiations. Mountjoy estimated the project will have a $200 million price tag, including the cost of purchasing land and about $40 million for the stadium itself. The stadium will cover 12 to 15 acres at the corner of Adams and Campbell Streets, with the playing field situated north-south.
The club had previously tapped HOK to handle the design. The stadium would originally be constructed with 10,000 seats, making it suitable for USL action. However, the design is also expected to allow the stadium to expand to as much as 20,000 seats if the opportunity to pursue an MLS franchise becomes available. As proposed, the stadium would open by the 2020 season.
Images courtesy Louisville City FC. 
RELATED STORIES: Louisville City FC Moves Forward With Stadium, Taps HOK For Design; Louisville City FC Could Tap New Albany for Stadium; New Leadership for Lousiville City FC; Louisville City FC Study Released; Results of Louisville Study Forthcoming; Louisville City: Too Small for MLS, Too Big for USL?; New Louisville City FC stadium in works?; Louisville City FC: Build for USL, expand for MLS