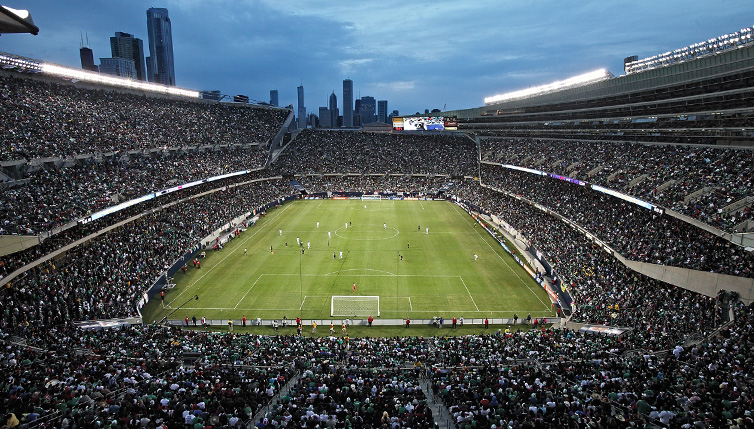 The MLS is expected to name Soldier Field as the host of the 2017 MLS All-Star Game, which would take place this summer. 
According to a report in Crain's Chicago Business, the MLS has made arrangements to bring next summer's All-Star Game to Soldier Field. Slated for August 2, the All-Star Game would be played at the more-than-61,000-seat stadium, while the surrounding area would be utilized for related events.
This could certainly provide the MLS with a major platform for its All-Star Game, which is the first to be played in Chicago since 2006. Additional details are expected to revealed next week. More from Crain's Chicago Business:
Details on those festivities remain under wraps, but last year's All-Star week events included free concerts, a 5K run and the MLS Homegrown Game.
Another unknown for now is the format of the All-Star Game itself. The league has pitted its top players against an international club for the showcase since 2003, with the exception of a faceoff between stars of its two conferences in 2004.
Regardless, it will be the first time in more than a decade that the league will hold the event in the Chicago area. The 2006 MLS All-Star Game between the league's top players and English Premier League Club Chelsea FC was played in Bridgeview at then-new Toyota Park, the Fire's home venue.
Though it has not hosted the Chicago Fire since 2005, Soldier Field has plenty of experience with marquee soccer events. Prior to its major renovation in 2003, the stadium hosted the 1994 FIFA World Cup and the 1999 FIFA Women's World Cup. In more recent years, Soldier Field has been the site of CONCACAF Gold Cups and Copa America Centenario matches.
Image courtesy concacaf.com
RELATED STORIES: Chicago to Make Bid for 2017 MLS All-Star Game