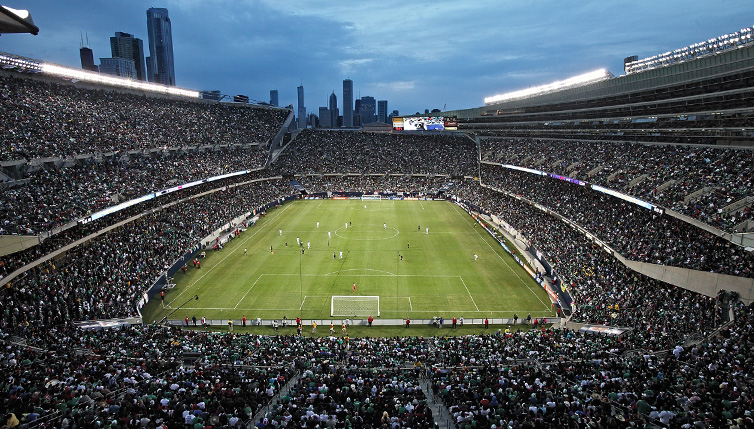 As league officials mull options for the 2017 MLS All-Star Game, the City of Chicago is making a very competitive bid. 
For the 2017 game, the interesting angle could be how it builds off the success of the 2016 event. The match at San Jose's Avaya Stadium was greeted by a sellout crowd, and the MLS benefited from significant media coverage during the event, with the ongoing expansion process being one of the stories at the forefront of the exposure.
As part of its bid package, Chicago is looking to make Soldier Field available, providing the game with a much larger capacity than it would receive at the Chicago Fire's Toyota Park. Furthermore, the city's Department of Cultural Affairs and Special Events (DCASE) would look to incorporate as many structures as possible for the game's related events, creating a proposal that has allowed it become a finalist for the MLS. More from Crain's Chicago Business:
DCASE employee emails show that the city has put holds on Daley Plaza and Millennium Park's Wrigley Square and Harris Rooftop for the MLS event, which is slated to run next year from July 28 to Aug. 3.
League representatives visited those sites earlier this summer to evaluate the city's bid for the event, according to correspondence between DCASE and the Chicago Sports Commission.
League Deputy Commissioner Mark Abbott confirmed that Chicago is one of "a number" of potential markets for the 2017 All-Star Game but declined to say how many finalists there were or which other cities were in contention.
Abbott said there is no timetable for an announcement on the game's host city, though the selection of a host market for the event is coming much later than it did last year. The league announced in May 2015—14 months in advance—that San Jose, Calif., would host the 2016 event.
As noted above Soldier Field is not the full-time home of the Fire, but the 2017 MLS All-Star Game would be the latest in a long line of marquee soccer events to have been hosted at the facility. Along with several CONCACAF Gold Cups, Solider Field has also been the site of Copa America Centenario matches, the 1994 FIFA World Cup, and the 1999 FIFA Women's World Cup.
Image courtesy concacaf.com