We have the branding for the USL team playing out of Toyota Field this season and beyond, as Spurs Sports & Entertainment unveils San Antonio FC and associated marks for the 2016 season.
You know the backstory: after San Antonio Scorpions owner Gordon Hartman sold Toyota Field and S.T.A.R. Soccer Complex to the City of San Antonio, Bexar County and Spurs Sports and Entertainment, it was announced that the NASL's San Antonio Scorpions would fold and a new USL team would replace it. We now the details of that USL team: it will be run by the NBA's Spurs.
The new badge is based on the Spurs' familiar black and silver, while the red is a tie to the Texas state flag.
"This is San Antonio's club," said San Antonio FC Managing Director Tim Holt. "As an organization, we are tied to this city like no other, so it became vital for us to reflect that in our name and crest. Everything from the club name, the shape of the crest and the team colors were carefully chosen to best represent San Antonio and reflect our relationship with this amazing city. We feel that our identity pays tribute to San Antonio's culture and history, while lighting a new path for soccer in our community. We look forward to representing San Antonio and Spurs Sports & Entertainment through the beautiful game, as San Antonio FC."
The shape of San Antonio FC's badge was derived from a variety of traditional national and international club crests. The heart of the badge contains two prominent elements: the five diagonal stripes, which were inspired by the armed forces' service stripes, are a salute to San Antonio's military history and their upward movement signifies the club's goal to play at the highest level; and the rowel of the Spur symbolizes the direct link between San Antonio FC and its parent company, Spurs Sports & Entertainment.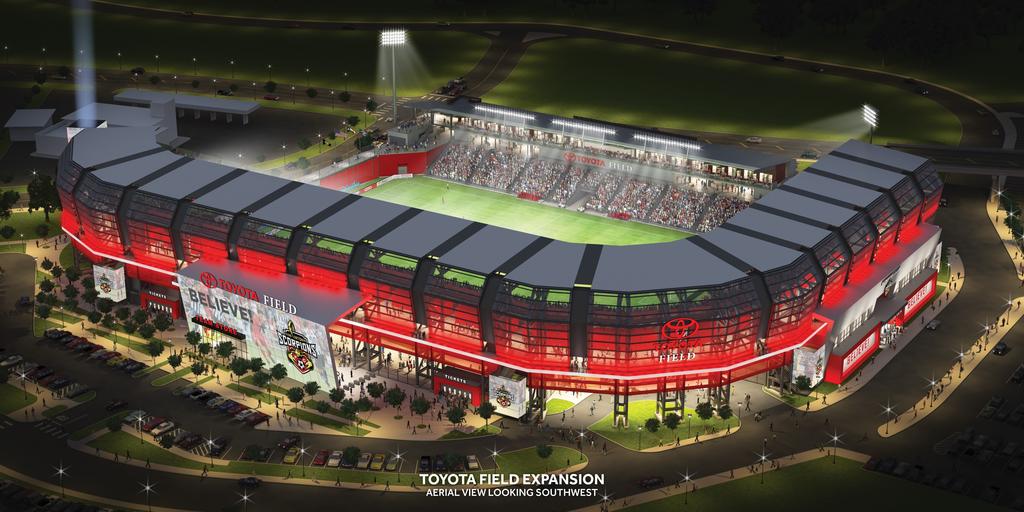 Why is Spurs Sports and Entertainment involved with a modest undertaking like a USL team? Not to run a USL team, but to prepare for a potential MLS franchise. Hartman initiated that process, and with MLS likely to expand beyond 2017, San Antonio could put together a credible bid with an ownership like the San Antonio Spurs and an expanded Toyota Field.
RELATED STORIES: Hartman, San Antonio disagree on Toyota Field valuation; San Antonio mayor: We're still working toward MLS; Hartman, San Antonio Scorpions target MLS expansion;