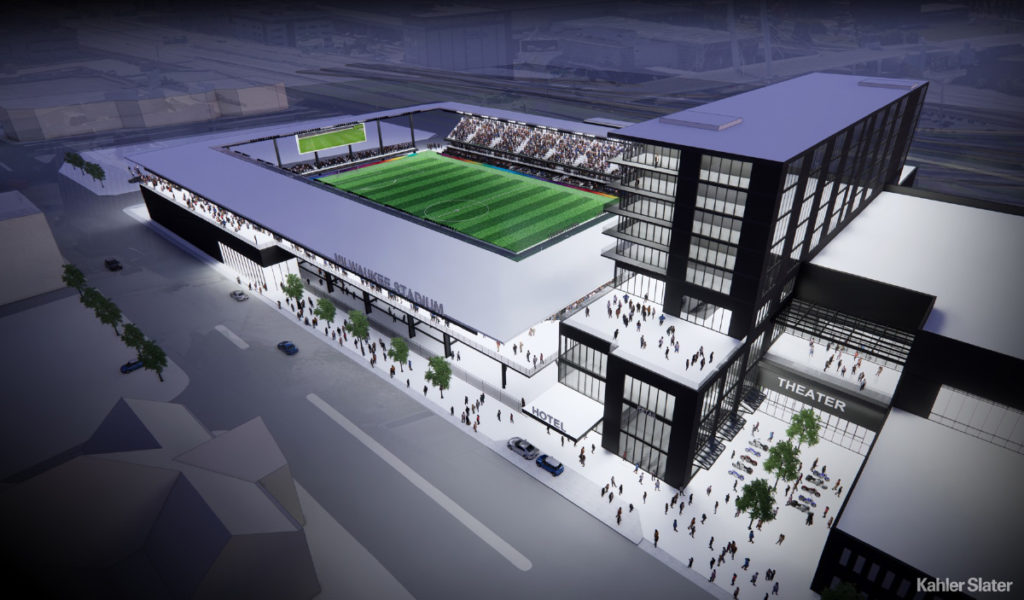 Proposed state funding for a new downtown Milwaukee soccer stadium and associated development has been removed from the state budget by Wisconsin Republican legislators, leaving the project with a funding gap.
The sports/entertainment complex was announced with an 8,000-seat stadium for USL soccer, an indoor concert venue, a full-service hotel, multi-family residential housing, retail, and food and beverage elements. Besides men's pro soccer in the form of USL Championship soccer and potentially women's pro soccer the stadium would host Marquette men's and women's soccer and lacrosse teams, as well as other events.
Gov. Tony Evers included $9.3 million in the 2023-2025 state budget for the $45 million stadium, a number deleted from the budget by the Legislature's Joint Finance Committee. And while the elimination of the state funding is a definite setback for the project, investors in the project say they'll continue working with the Evers administration for funding.
"While we are disappointed in the decision, we're committed to working with the state on future funding opportunities to bring USL Championship soccer to Wisconsin for the 2025 season," said S.R. Mills, chief executive officer of Kenosha-based Bear Development LLC, via press statement.
The Iron District MKE sports/entertainment district will be located at an 11-acre site parcel from Marquette University, is set to open in spring 2025. The parcel, to be master developed by Kenosha-based Bear Development, is bordered by North Sixth Street to the east, Michigan Street to the north, and the 794/I-43 interchange to the east and south. (Think kitty-corner from downtown's Hilton Milwaukee, a very visible landmark.) The scope of the project has already changed; the concert venue, to be managed by Pabst Theater Group, is now smaller than the original 3,500 seats. 
This article originally appeared in the weekly Soccer Stadium Digest newsletter. Are you a subscriber? Sign up here!
RELATED STORIES: USL Championship Milwaukee team for 2025 unveiled; New Milwaukee soccer stadium pitched as part of entertainment complex