A development accompanying a proposed Tidewater Landing soccer stadium in downtown Pawtucket (RI), intended for a USL Championship team, is moving forward after receiving financing plan approval from the state.
The Rhode Island Commerce Corporation Board of Directors approved the financing plan Thursday.
This public investment will be centered on public infrastructure improvements and not on the stadium itself, which will be privately financed. The Tidewater Landing soccer stadium and associated development are slated to be the largest economic development project in Pawtucket's history.
The project, which is being developed by Fortuitous Partners and is expected to cost more than $284 million, will take place on six parcels on both sides of the Seekonk River consisting of two sites (25 acres). The Tidewater site and the Division Street site and will be developed across two phases. The project will support more than 2,000 direct and indirect construction jobs and 940 direct and indirect ongoing jobs. 
The initial phase (Phase 1) will consist of a mixed-use development of 435 residential units with a 150-space garage, 60,000 square feet of commercial space, 56,750 square feet of retail and restaurant space along with the stadium and its accompanying 750-space parking garage. The stadium will contain a minimum of 7,500 seats and may be designed to accommodate up to 11,000 seats. Phase 1 will also involve infrastructure and public space improvements such as utility and stormwater improvements, roadway and streetscape improvements, off-site infrastructure improvements, surface parking, public plaza spaces, and the development of 4,000+ linear feet of riverwalk and pedestrian bridge. Phase 2 will likely consist of an indoor entertainment and event venue, as well as a hotel. 
"Today's announcement brings us one step closer to a near future where jobs, commercial activity, community and recreation come together to reinvigorate downtown Pawtucket," said Governor Gina M. Raimondo. "This land, which sat underdeveloped and underutilized for decades, will now serve as a catalyst for economic activity throughout Rhode Island."
"On behalf of everyone at Fortuitous Partners, I want to express our thanks to Governor Raimondo, incoming Governor McKee, Mayor Grebien and his team, and Secretary Pryor and Commerce RI for their support and the incredible amount of hard work that has culminated into making Tidewater Landing a reality," said Brett Johnson, founder of Fortuitous Partners.  "We are excited for this unique, sports-anchored live, work, play community and the launch of professional soccer at Tidewater Landing, to help transform Blackstone Valley and the City of Pawtucket and to provide an added source of pride for the great State of Rhode Island. With this exceptional milestone support from the City and State, we will break ground later this year, creating thousands of jobs and hundreds of millions of dollars of positive social and economic impact, and we cannot wait to welcome Rhode Islander's to our inaugural home game in 2023. Thank you to all for your support and faith in this project and we are honored and grateful to move to this exciting next stage."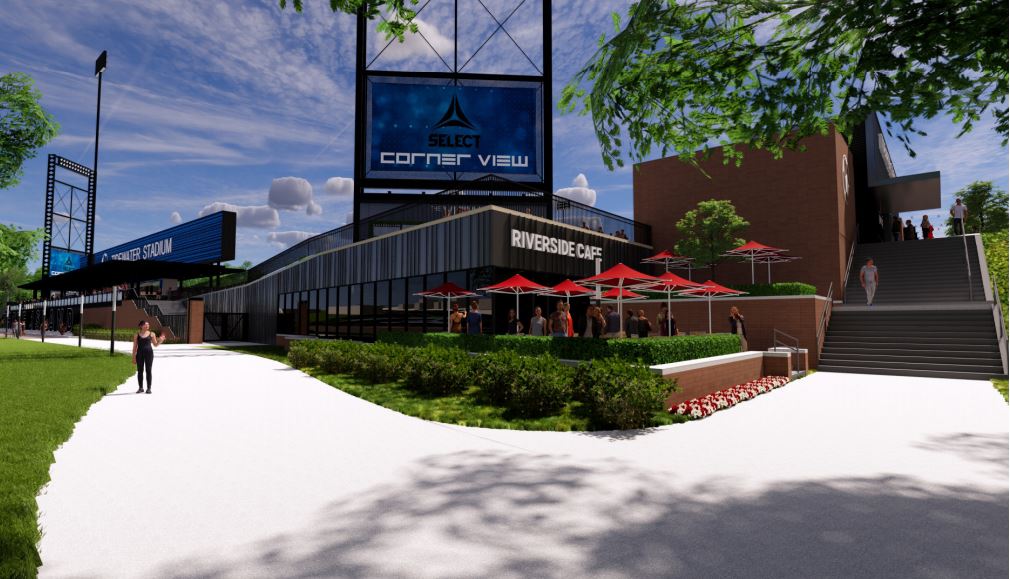 Keeping within the framework of the project announced in December 2019, the public's share (state and city combined) of the project's cost is approximately 17 percent, or $46.2M. As agreed, upon by the state, city and Fortuitous, the public parties will not be required to increase incentive amounts as a result of cost overruns. Additionally, supplementary funding sources secured by the State (e.g. federal infrastructure grants) may reduce the state's investment in the project. 
RELATED STORIES: Planning on new Pawtucket soccer development continues; Discussions Over Proposed Pawtucket Stadium Project Moving Along; Johnson: Opportunity Zone Designation Should Help Pawtucket USL Stadium Project; Best of 2019, #10: Pawtucket USL Stadium Proposal Unveiled; Johnson Pitches Potential Impact of Pawtucket USL Stadium Project; Remediation Needed for Pawtucket USL Stadium Site; Proposed Downtown Pawtucket USL Stadium Moving Forward; USL Stadium Could be Part of New Downtown Pawtucket Development