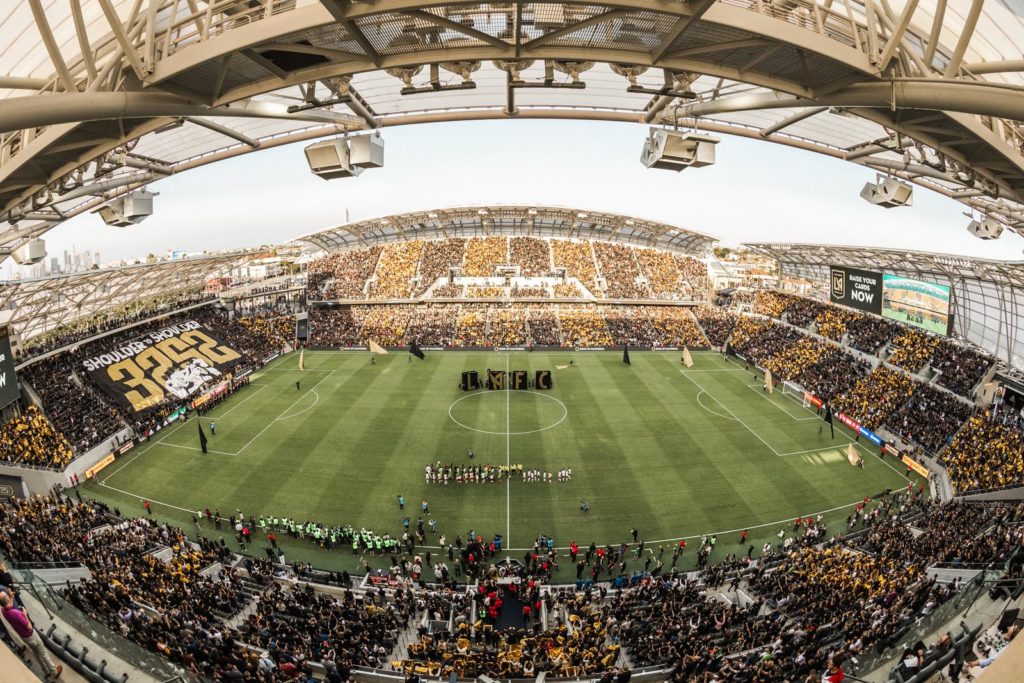 Steve Tadlock has been named the new Executive Vice President and General Manager of Los Angeles FC's Banc of California Stadium (BOCS), an appointment announced Monday.
Tadlock joins BOCS following three decades of leadership roles with respect to the oversight, management and operation of large scale entertainment and sports venues across the country, including 18 years at SMG Worldwide.
Based at the Stadium, Tadlock will report to Friedman, and will be responsible for all facility operations and event production at Banc of California Stadium and the Stadium Grounds in Exposition Park, for concerts/music festivals, sports and special events. Overseeing front and back of house operations, Tadlock is charged with ensuring first class experiences for all stakeholders from patrons to artists, athletes, promoters and producers to sponsors and special event clients. His appointment further enhances BOCS Entertainment's world class leadership team following a series of strategic appointments since the division's launch last April.
"World class facilities deserve world class management," said Adam Friedman, President of Banc of California Stadium Entertainment and EVP of LAFC Sports, LLC.  "Steve is known throughout the entertainment and sports industries as a leader in the management and operation of large entertainment properties. He not only deploys best practices, but creates them as an innovator in the space. He is equally well versed in both programming and operations and is a perfect fit for the role as we continue with our launch of the venue with a robust schedule of premium events."
"Operating for less than a year, the Los Angeles Football Club and Banc of California Stadium have already had global impact, said Tadlock."The Stadium is uniquely versatile due to its 'outdoor arena' design and capability resulting in a wide range of programming. In addition to home matches of LAFC, we will continue to grow and host top concerts and music festivals, the greatest in exhibition sports, and branded special events. I'm honored and greatly excited to be joining this team, utilizing my industry experience to help make BOCS the venue of choice for artists, producers/promoters, and fans alike."
Friedman added, "I am also delighted to announce that Otto Benedict will continue with us as SVP, Facility Operations Banc of California Stadium, reporting to Tadlock and will work hand in hand with Steve to ensure that all of our guests and clients have unforgettable experiences as we host global superstars, top sporting events, and a wide range of Special Events at the Stadium."
A highly respected leader in the sports and entertainment facility management industry, Tadlock's tenure at SMG culminated most recently as Regional VP – Stadiums, Arenas and Theaters based in Fresno, California, overseeing nine general managers and 14 venues from arenas to amphitheaters to convention centers and other mixed use facilities across the Western United States and Canada. Steve has over three decades of far reaching experience with a variety of professional and amateur sports organizations including MLB, NBA, NHL, AFL and three NCAA Division I Athletic programs. Previously, he held positions at SMG including Regional General Manager and General Manager of Save Mart Center at Fresno State for 14 years producing between 120-140 events annually including internationally touring artists and events. During Tadlock's tenure, Save Mart Center at Fresno State was the top-ranked collegiate facility seven times in Pollstar Magazine and in the Top 100 Arena Venues Worldwide every year since its 2003 opening.
No stranger to Los Angeles, Steve has overseen SMG venues in Southern California and played a key role in SMG's securing the management contract of the City owned Greek Theatre while overseeing all transitional operations at the iconic venue. Early in his career at SMG, he was GM of the CenturyTel Center in Bossier City, Louisiana and began his career in Florida for Leisure Management International at multiple stadiums in Miami and then at The Pyramid in Memphis, Tennessee.
Tadlock holds a B.A. in Sports Administration from St. Thomas University in Miami, Florida and his professional training includes Customer Service at the Disney Institute at Walt Disney World in Orlando, Florida.
Image courtesy Los Angeles Football Club.