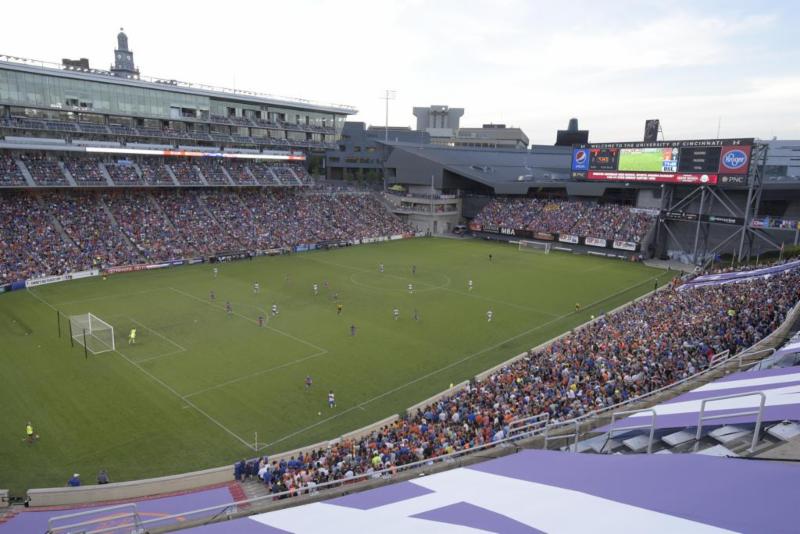 Note: Portions of this story were originally written in 2018.
The 2019 MLS season will bring a shakeup to the league's slate of venues, with stadiums on opposite ends of the age spectrum hosting their first MLS matches. FC Cincinnati will begin MLS play at Nippert Stadium, now the league's oldest facility, while Minnesota United FC will be the lone club to debut a new stadium when it opens Allianz Field in April. The entry of those facilities, along with a few other developments, has prompted us to update our list of MLS stadiums oldest to newest.
Nippert Stadium, FC Cincinnati (1915)
University of Cincinnati athletics have been played at the site of the field much longer, but the debut of a new concrete-and-steel structure in 1915 marked a turning point. Dedicated in honor of James "Jimmy" Gamble Nippert in 1924, Nippert Stadium has received numerous renovations over its history, including recent upgrades to accommodate Division II soccer for FC Cincinnati. It will only host MLS on a short-term basis, however, as FC Cincinnati is planning to open a new stadium on Cincinnati's West End in 2021.
Providence Park, Portland Timbers (1926)
A multipurpose outdoor sports venue for much of its history, Providence Park hosted baseball into the 21st century. However, the Portland Beavers (Class AAA; Pacific Coast League) departed for Tucson following the 2010 season (before eventually settling in El Paso), a move that allowed for renovations to make it a permanent MLS venue. The Timbers have been well supported by their fan base since debuting in 2011, and Providence Park is currently undergoing an expansion that will result in about 4,000 additional seats once it is completed during the 2019 season.
BC Place, Vancouver Whitecaps FC (1983)
Originally opening as a multipurpose domed stadium with an air-supported roof, BC Place debuted a series of new renovations in 2011, with one of the biggest additions being a new cable-supported retractable roof. Along with MLS action, the venue hosts a variety of other events, including Canadian Football League games for the BC Lions.
MAPFRE Stadium, Columbus Crew SC (1999)
When it opened as Columbus Crew Stadium, the venue was billed as the first soccer-specific stadium in MLS. It helped usher in an era of similar facilities, ultimately setting the course for a model that has been copied numerous times throughout the league. It has become dated over the years, however, and the Crew is planning to move into a new soccer-specific stadium in Columbus' Arena District in the coming years.
CenturyLink Field, Seattle Sounders FC (2002)
CenturyLink Field has earned a reputation as a premier MLS venue, thanks to strong support from the Sounders' fan base and the facility's ability to easily adjust from NFL to MLS. The stadium was designed to accommodate both sports, and also serves as the home of the NFL's Seahawks.
Gillette Stadium, New England Revolution (2002)
After starting out at Foxboro Stadium, the Revolution joined the NFL's Patriots at Gillette Stadium when it opened. The Kraft Family, which controls both teams, has been reported to be seeking a new soccer-specific stadium in the Boston area, but no plans have moved forward to this point.
Dignity Health Sports Park, Los Angeles Galaxy (2003)
Over its years of existence, Dignity Health Sports Park—originally known as Home Depot Center and later StubHub Center—has built a reputation for providing a strong fan experience. It also holds the distinction of having once hosted two MLS teams simultaneously—Chivas USA shared the facility with the Galaxy from 2005-2014—and is serving as a temporary home for the NFL's Los Angeles Chargers through the 2019 season. A new naming-rights partnership with Dignity Health has gone into effect for 2019
Toyota Stadium, FC Dallas (2005)
An early entry in MLS's soccer-specific stadium wave, Toyota Stadium is located in suburban Frisco. The facility recently underwent a series of renovations that included the addition of the National Soccer Hall of Fame, which opened in the fall of 2018.
SeatGeek Stadium, Chicago Fire (2006)
Located in suburban Bridgeview, SeatGeek Stadium is another example of an early MLS soccer-specific venue. To allow fans to be seated close to the action, the stadium was designed so that the first row of seats was elevated just 18 inches above the playing field. It was originally known as Toyota Park, but a new naming-rights partnership with SeatGeek went into effect after the 2018 season.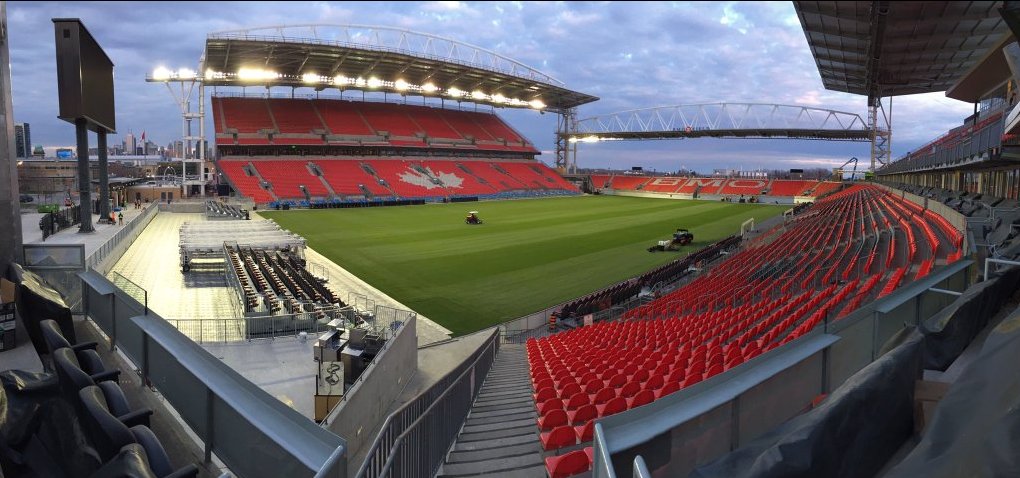 BMO Field, Toronto FC (2007)
BMO Field began hosting MLS action upon Toronto FC's debut in the league in 2007. Its current appearance is different from how it looked when it originally opened, as the facility has since undergone a major expansion to accommodate the CFL's Argonauts.
Dick's Sporting Goods Park, Colorado Rapids (2007)
After spending their first 11 seasons at two NFL facilities—first Mile High Stadium, followed by Invesco Field at Mile High—the Rapids moved into this suburban Commerce City venue. The venue is part of a larger soccer complex that includes 22 natural grass and two synthetic turf fields.
Rio Tinto Stadium, Real Salt Lake (2008)
Like other soccer-specific venues constructed before and since, this suburban Sandy facility offers the ability to host concerts and other outdoor events. It also became home to the NWSL's Utah Royals FC in 2018.
Saputo Stadium, Montreal Impact (2008)
Originally constructed when the Impact was a member of the NASL, the stadium was expanded in 2012 to coincide with the club's move up to MLS. It is located in Olympic Park and sits just outside of Olympic Stadium.
Yankee Stadium, New York City FC (2009)
Built for MLB's New York Yankees, Yankee Stadium made its MLS debut when NYCFC began play in 2015. The club wants to build a soccer-specific stadium in New York but will likely remain at Yankee Stadium until a new facility is secured.
Red Bull Arena, New York Red Bulls (2010)
After spending years in the Meadowlands, the Red Bulls moved to this facility in Harrison—a suburb of Newark—in 2010. The 25,000-seat stadium features a concrete lower bowl, with a metal upper bowl intended to make for a nosier atmosphere.
Talen Energy Stadium, Philadelphia Union (2010)
Political support for the stadium's construction in nearby Chester helped Philadelphia land an MLS expansion franchise. After using Lincoln Financial Field for early-season home matches, the Union played its first game at the facility in June 2010.
Children's Mercy Park, Sporting KC (2011)
Featuring a canopy roof that covers every seating section, Children's Mercy Park has earned a reputation for being one of the more unique atmospheres in MLS. It is located in Kansas City, KS.
BBVA Compass Stadium, Houston Dynamo (2012)
One of the more unique aspects of the stadium's design is its facade, which includes orange coloring and a geometrically-shaped tessellated aluminum mesh. BBVA Compass Stadium is also an example of a soccer-specific facility constructed in a downtown-type setting, as parts of seating bowl offer a view of the Houston skyline.
Avaya Stadium, San Jose Earthquakes (2015)
Upon its opening, Avaya Stadium was noted for many of its technology features, as it was billed as the first cloud-enabled professional sports venue. It also features several other distinct amenities, including the longest outdoor bar in North America.
Mercedes-Benz Stadium, Atlanta United FC (2017)
The stadium has already been the site of several MLS attendance records for United matches, and it contains unique design features that allow it to be easily converted from football to soccer. In 2018, it played host to both the MLS All-Star Game and MLS Cup.
Orlando City Stadium, Orlando City SC (2017)
Designed by Populous, Orlando City Stadium was the first in MLS to feature a safe standing supporters section. It is located in Orlando's Parramore neighborhood.
Audi Field, D.C. United (2018)
After a long search for a new facility to replace RFK Stadium, United moved into the new Audi Field in D.C.'s Buzzard Point neighborhood in July 2018. Audi Field is located near Nationals Park—home to MLB's Nationals—and is expected to be one of the anchors of future development in the area.
Banc of California Stadium, Los Angeles FC (2018)
Built at the site of the former Los Angeles Memorial Sports Arena, Banc of California Stadium offers unique premium seating and technology features. While built to the soccer-specific configuration, it has also been used for a variety of non-MLS events since its opening, including concerts.
Allianz Field, Minnesota United FC (2019)
United spent its first two years of MLS play at the University of Minnesota's TCF Bank Stadium, giving it a placeholder until Allianz Field's upcoming debut. With a seating capacity of about 19,400, the stadium will follow the soccer-specific model. It is also expected to be an anchor of future development in St. Paul's Midway neighborhood.
 Image of Nippert Stadium courtesy FC Cincinnati. Image of BMO Field courtesy Toronto FC.
This article appeared in the weekly Soccer Stadium Digest newsletter. Are you a subscriber? It's free and easy to subscribe: Just click here!