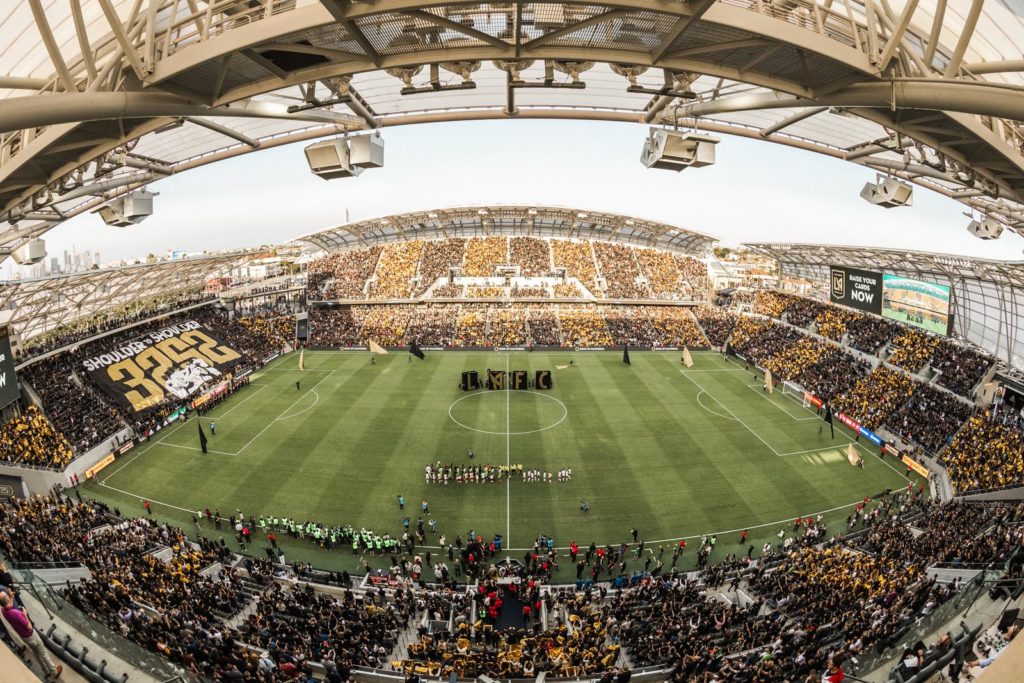 Banc of California Stadium Entertainment, a division that handles events at the home of MLS's Los Angeles FC, has named Brian Smith as its new Event Director. Smith comes to BOCS Entertainment after spending more than six years in event and festival management with SMG Worldwide.
Based out of BOCS Entertainment's Downtown Los Angeles offices, Smith will report to Otto Benedict, Senior Vice President, Facility Operations and General Manager for BOCS, and will be responsible for organizing, confirming, coordinating, and providing support to both internal and external clients to ensure a safe and seamless execution of all events at Banc of California Stadium, as well as the Los Angeles Memorial Coliseum and the Stadium Grounds in Exposition Park, including live music events (headline music concerts, radio shows, music festivals, and multi-cultural events); sporting events (international, national, and local, including Major League Soccer matches of the Los Angeles Football Club); and special events (brand communication, product launches, corporate events, celebratory events, award shows, and filming, to name a few).
Benedict said, "Brian's impressive tenure with SMG Worldwide and history of conceptualizing and overseeing a wide range of arena-level events make him an excellent addition to the growing events team at Banc of California Stadium. The knowledge and expertise he brings to the team will enable us to provide the highest level of service and event execution for our customers, clients, and partners."
Smith added, "It's an exciting time for Banc of California Stadium, and I couldn't be more thrilled to continue my career in events with the new, and only, 'outdoor arena.' I'm looking forward to helping to create memorable events and experiences for the Stadium's customers, partners, and residents of Los Angeles."
Smith joins BOCS Entertainment from SMG Worldwide, where he worked since 2012, starting as Special Event Coordinator and then Event and Festival Manager for BOK Center in Tulsa, Okla., before moving out West to Ontario, Calif., to work as Senior Event Manager for Citizens Business Bank Arena. During his time at BOK Center, Smith managed the special events department in the oversight of Winterfest, Rock 'n Rib Festival, Dodgebrawl, Wingapalooza, OK Play, Breakfast with Santa, Whiskey Well, and Live Great 918, the latter three of which were event concepts he developed. At Citizens Business Bank Arena, Smith oversaw the advancing, planning and execution of all touring productions, family shows, and tenant teams, including Ontario Reign, Agua Caliente Clippers of Ontario, and Ontario Fury. In 2016, Smith was recognized on the International Association of Venue Managers' 30 Under 30 list. Smith also held membership on SMG's Event Innovation Team, and has presented on special event creation as a speaker at the SMG Marketing Conference in 2015 and VenueConnect in 2016. He holds a Bachelor of Science degree in journalism and broadcasting from Oklahoma State University.
Since opening in April 2018, BOCS Entertainment has brought in more than 425,000 people to events, including global brands such as iHeart Radio Wango Tango by AT&T, Epic Games' Fortnite Celebrity Pro-Am tournament, the first-ever HBO Insecure Fest, three U.S. Open Cup games, an open media workout ahead of the Canelo Alvarez vs. Gennady "GGG" Golovkin fight, and the annual Adobe Max, culminating with a concert by Beck. The entertainment division also produced the Súper Clásico: America vs. Chivas match, which drew nearly 60,000 fans to the Coliseum. On Dec. 14-15, BOCS hosted the Rolling Loud festival on the Banc of California Stadium Grounds, with more than 50,000 people per day attending the event, billed as the world's biggest hip-hop festival. Recently, the stadium made its first concert announcement for 2019, revealing that Iron Maiden will take their "Legacy Of The Beast Tour" to BOCS on September 14, with many more announcements coming soon.
Image courtesy Los Angeles Football Club.