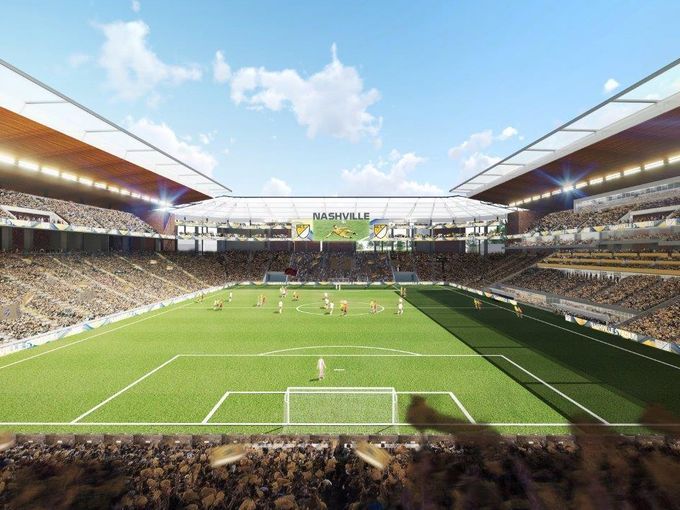 We end 2017 with a countdown of the 10 biggest stories of the year on Soccer Stadium Digest, as chosen by editors and partially based on page views. Today, #1: The success of the Nashville MLS expansion bid.
It faced a competitive field, may not have been considered a lock in the beginning, and at points found its stadium proposal surrounded by question marks. In the end, however, the Nashville MLS expansion bid was successful, thanks to a year that saw considerable momentum in the city's soccer scene and political support for a new stadium.
After spending much of 2016 laying the ground work for a bid, Nashville was one of 12 markets represented in expansion pitches that were submitted to MLS in January. From the beginning, the bid had some clear strengths—including the backing of an ownership group led by John Ingram, and the advantage of an intriguing market—but had considerable work to do to stand out from its competitors.
Over time, Ingram's group and Nashville Metro officials would hone the details of a new stadium proposal. Slated for The Fairgrounds Nashville, the soccer-specific stadium would be constructed as part of a $275 million project. A key decision was due in November, when the Nashville Metro Council was to decide whether to approve $225 million in bonding for the new stadium. While some concerns were expressed over certain aspects of the broader stadium proposal—including a provision to make 10 acres of Fairgrounds land available to the Ingram group for development—the Metro Council ultimately approved the bonding in a 31-6 vote.
Along with a solid stadium plan, Nashville had an advantage through the strengthening of its ownership group. In August, it was announced that Minnesota Vikings (NFL) owners Mark, Zygi and Leonard Wilf had joined the Nashville expansion bid, giving the ownership group the backing of investors with extensive experience in major sports.
As the year wound down, MLS announced that Nashville was one of four finalists for two expansion spots, putting the bid in a mix that also included Cincinnati, Detroit, and Sacramento. Representatives from all four groups made their cases to MLS commissioner Don Garber and the league's expansion committee in early December, setting the stage for an announcement later in the month.
When that announcement came, it was revealed that Nashville's MLS expansion bid was successful. While the timing of Nashville's inaugural season of play remains uncertain, MLS's approval allows for the stadium plan at The Fairgrounds Nashville to move forward.
MLS will enter the new year with some major decisions to make regarding expansion. However, its approval of Nashville officially rewards the successful work of a strong bid that gathered considerable momentum over the course of 2017.
Previously in our Top Ten Stories of 2017 List:
#2: Trials and Tribulations of the NASL
#3: Miami MLS Makes Progress, But Still Not Final
#4: MLS Expansion
#5: Columbus Crew SC Explores Austin Move
#6: USL Expansion
#7: SoccerCity on Hold
#8: Louisville City FC Pitches a New Stadium
#9: Banc of California Stadium
#10: Phoenix Rising FC Explodes on Pro Soccer Scene