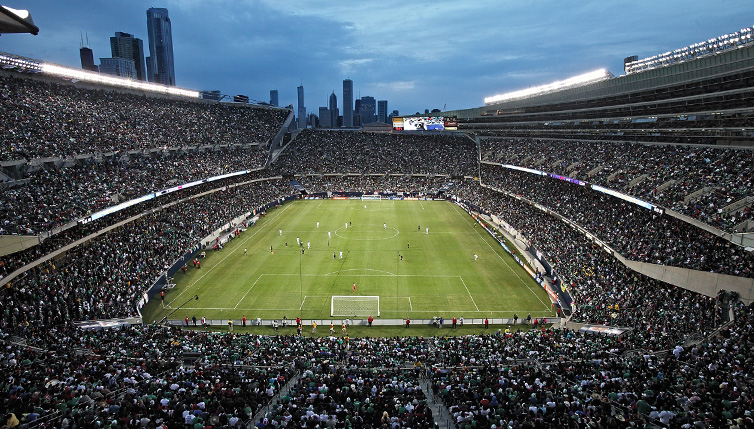 As part of their joint 2026 World Cup bid, the United States, Mexico, and Canada are considering a total of 49 stadiums for the event. 
The list of proposed sites features and interesting mix. Overall, 44 cities–including 34 in the U.S., seven in Canada, and three in Mexico–have been sent requests for information, with the U.S. side made up largely of NFL stadiums. Out of the stadiums for that league's 32 teams, only one–Buffalo's New Era Field–did not make the list, while two that are expected to open in 2020–Inglewood (Los Angeles) and Las Vegas–are mentioned.
The list of 49 facilities across the three countries can be found here, and it does provide some insight into what venues could be options as organizers move forward with the bid. Under the current arrangement, the U.S. will host 60 of 80 games, while the remaining 20 will be evenly split between Canada and Mexico. The list of venues will be narrowed in the coming weeks, with interested cities having until next month to declare their interest. More from ESPN FC:
The organizers will reach out to each of the cities on the list and those hoping to be selected will have until Sept. 5 to declare their interest.
Those cities will then have until early January 2018 to prepare their bid to become a World Cup host, if they make the initial shortlist, which is set to be announced in late September.
Between 20-25 venues are set to be included in the final bid to FIFA, with the committee anticipating that 12 or more locations will be official host cities, if the North American bid is successful.
The official bid is to be sent to FIFA by March 16, 2018. Should the joint bid of the United States, Canada, and Mexico prove successful, it would be the first time the World Cup is hosted by multiple nations since Japan and South Korea's combined effort in 2002.
Image of Chicago's Soldier Field courtesy concacaf.com
RELATED STORIES: Committee Formed for United 2026 World Cup Bid; U.S., Mexico, Canada Announce Joint Bid for 2026 World Cup; FIFA to Include 48 Teams in 2026 World Cup; Joint Bid Discussed for 2026 World Cup