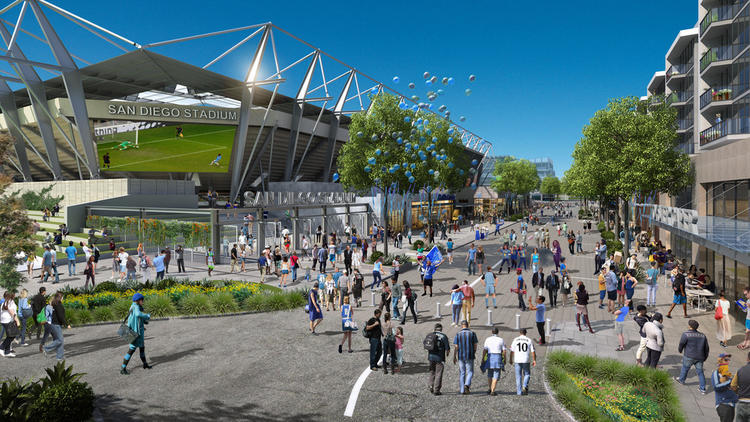 By a 8-1 margin, the San Diego City Council voted to remove $5 million in funding for a November 2017 SoccerCity special election, raising new obstacles for the city to land an MLS expansion team in 2017 or 2018.
MLS has laid out a path for expansion from 24 to 28 teams, with 12 cities applying for a team. The SoccerCity initiate in San Diego would see an MLS stadium anchor a redevelopment of the 166-acre Qualcomm Stadium site. It's a deal that's been negotiated between Mayor Kevin Faulconer and FS Investors, who are seeking to lease the site at a fair-market value and privately finance the the development and stadium.
The timing is at issue here, with MLS expected to announce two expansion cities in November or December and two more in 2018. As it stands, a public referendum on the SoccerCity plan could be part of the November 2018, but Faulconer and FS Investors were seeking a November 2017 SoccerCity special election to fit in the MLS expansion window.
The City Council, however, for now killed the idea of a November 2017 referendum by shifting $5 million in the city budget specified for a fall election. In theory, the City Council could move forward with a November 2017 special election, as the matter is scheduled to be decided upon by June 19. But by voting to strip funding for a special election, the council has pretty much decided on the matter. Faulconer, however, pledges to veto the budget and continue working on a SoccerCity special election. From the San Diego Union-Tribune:
"A City Council majority is supporting the unprecedented step of blocking a public election by stripping funding from the budget. This short-sighted move results in denying the public a vote and getting nothing accomplished for our city," he said in a statement.
"I intend to use my veto authority to restore the special election funding, while still retaining the added funding for our police, so the City Council can take an up-or-down vote on these urgent ballot measures," Faulconer said.
RELATED STORIES: MLS: We Won't Wait for San Diego MLS Referendum; San Diego Mayor Endorses Revised SoccerCity MLS Pitch; SDSU Ends Talks to Share New San Diego MLS Stadium; Report: SoccerCity Would Produce Millions in Annual Tax Revenue; FS Investors Submits SoccerCity Petitions; SoccerCity Proposal Could be Placed on November Ballot; SoccerCity Could Have an Annual $2.8 Billion Economic Impact; SoccerCity MLS Proposal Unveiled by San Diego Investors; San Diego, Tampa Bay Make Their MLS Cases; San Diego MLS Plan Unveiled; San Diego Close to Revealing MLS Pitch; San Diego Looks to Advance MLS Stadium Push; Residents Polled on New San Diego MLS Stadium; Padres Owner Among Potential San Diego MLS Leaders; San Diego Eying MLS Team