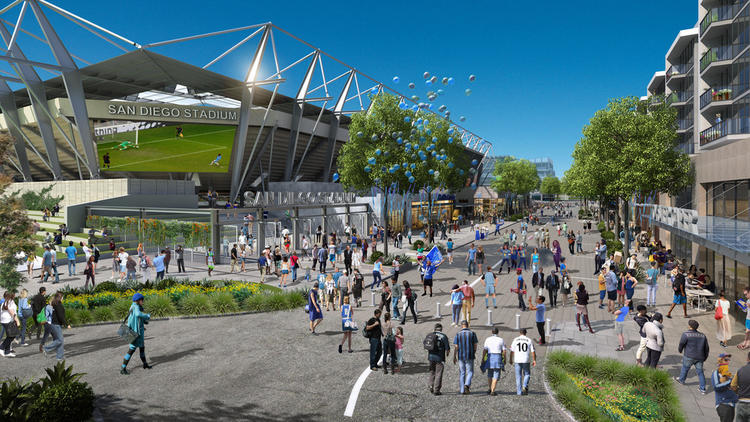 San Diego State University has ended talks over a potential deal to share a new San Diego MLS stadium at the proposed SoccerCity development, leading investors to signal their intent to revert back to a 22,000-seat soccer-only facility at the Qualcomm Stadium site.
SDSU officials had been negotiating with Mayor Kevin Faulconer's offer over to share a 30,000-seat stadium with a proposed MLS expansion team, with the stadium potentially expandable to 40,000 seats. The decision to walk away means the development team will plan on a smaller, 22,000-seat stadium configured for soccer, without the engineering needed for further expansion.
The proposed SoccerCity development features more than 2.4-million square feet of office space, 4,800 homes, two hotels and 800 student apartments on the 166-acre Qualcomm Stadium site.
This statement was released by SDSU spokesperson Gina Jacobs:
"While SDSU's current campus footprint of 238 acres is sufficient to support the University's aspirations in the short term, we have long-articulated the need for more space for the advancement of the University over the next 50 years. The Mission Valley opportunity is a once-in-a-generation chance for SDSU to expand its research, tech transfer, collaboration space and other future needs, as we continue to ascend toward becoming a top 50 public research institution. With these concerns and motivations in mind, SDSU will not engage in any further discussions with FS Investors."
In the end, it was about money. FS Investors, developers of the SoccerCity plan, were asking that San Diego State contribute $100 million toward the cost of a new San Diego MLS stadium and take over as owner after five years. The city of San Diego is eager to tear down Qualcomm Stadium: it currently costs the city $12 million annually to operate the dated facility, a number that doesn't come close to being covered by SDSU football rent. The current plan would have SDSU football play at Qualcomm Stadium for the 2018 season and take up a temporary one-year occupancy at Petco Park while the new stadium was constructed. If SDSU were part of the plan, the new stadium would be designed to seat 30,000 and expandable to 40,000.  Walking away from a SoccerCity development is a risk: the Aztecs could have no home after the 2019 football season.
The decision to walk away from the SoccerCity proposal, initiated by SDSU President Elliot Hirshman (who is leaving SDSU to take over as president of Stevenson University in Maryland), led to this statement from Nick Stone of FS Investors:
"It's another sad chapter in the saga of departing university leadership moving the goal posts. Unbelievably, they continue to walk away from people trying to help them. It's clear this decision will jeopardize Aztec football. One would have hoped an issue of this magnitude would warrant a meeting with the new administration, and yet the person making this decision will be at a new East Coast university safe from the aftermath his lack of leadership has created.
Despite this announcement, we stand ready to work with new leaders at SDSU to support the long-term goals of an institution we care about deeply."
What SDSU is seeking in any Qualcomm Stadium site redevelopment: more land. SDSU would like to see some of the land in the development devoted to a new football-only stadium as well as an expansion of the current SDSU campus. That's why university officials are pushing for public bids for the site in the hopes that another bidder can step forward with a plan that gives SDSU more land. Currently the SoccerCity bid is in the process of being added to a fall referendum: FS Investors have apparently submitted more than enough signatures to put their proposal on the ballot. If voters reject it, the city may then put the land parcel out for bid.
As noted during the most recent update of our MLS expansion odds, decisions regarding expansion will likely take place after the scheduled date of the referendum. If San Diego does ultimately move forward with the referendum, it would become the latest city to provide voters with a ballot initiative for a proposal relating to MLS expansion. St. Louis voters rejected a proposal for city funding toward a new stadium earlier this month, while St. Petersburg voters approved moving forward on a proposed expansion of Al Lang Stadium.
RELATED STORIES: Report: SoccerCity Would Produce Millions in Annual Tax Revenue; FS Investors Submits SoccerCity Petitions; SoccerCity Proposal Could be Placed on November Ballot; SoccerCity Could Have an Annual $2.8 Billion Economic Impact; SoccerCity MLS Proposal Unveiled by San Diego Investors; San Diego, Tampa Bay Make Their MLS Cases; San Diego MLS Plan Unveiled; San Diego Close to Revealing MLS Pitch; San Diego Looks to Advance MLS Stadium Push; Residents Polled on New San Diego MLS Stadium; Padres Owner Among Potential San Diego MLS Leaders; San Diego Eying MLS Team