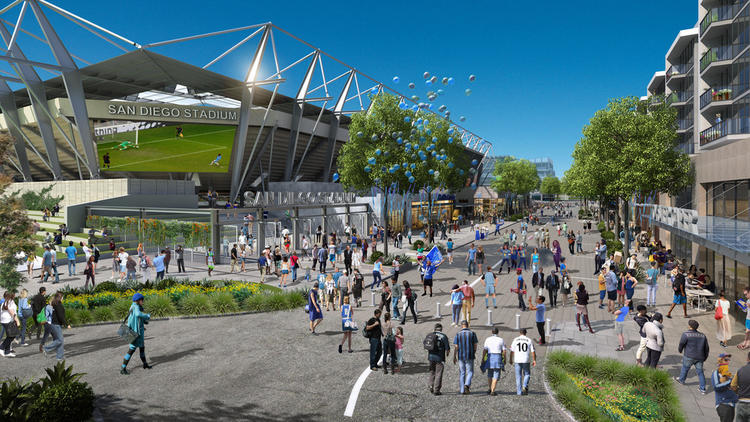 A revised SoccerCity MLS plan for San Diego's Qualcomm Stadium site that includes land for San Diego State University and a 33,500-seat stadium has won the endorsement of Mayor Kevin Faulconer — but not any new interest from SDSU.
The city and FS Investors have been negotiating a plan for the redevelopment of the Qualcomm Stadium site, with a development anchored by the new SoccerCity MLS stadium. Under the terms of the new plan, an independent appraisal will determine the fair-market value of the 166-acre site, with FS Investors committing to paying 10 percent of the agreed-upon price annually. FS Investors would also commit to building a 33,500-seat stadium expandable to 40,000, with the cost split between FS Investors and SDSU. The proposed SoccerCity development features more than 2.4-million square feet of office space, 4,800 homes, two hotels and 800 student apartments on the 166-acre Qualcomm Stadium site.
The new proposal also gives San Diego State the option of obtaining up to 47 acres of land, though there are plenty of conditions on the acquisition.
And while Faulconer did end up endorsing this revised plan, San Diego State didn't. This past week SDSU officials rejected the notion of working with FS Investors on a stadium plan and called for the Qualcomm Stadium site to be put out to bid, with the hope that another development team would step forward with a plan that included free land for the university. In his endorsement of the plan, Faulconer called for SDSU to return to the negotiating table:
"This is about moving forward with a plan that does have a piece for everyone," Faulconer said at a bayside news conference. "Opportunities like this don't come around very often, and if we don't move forward now, it is likely nothing will happen at Qualcomm for years and years."
Faulconer said Qualcomm's "days are numbered" and it is costing the city $12 million a year to keep the stadium open, although it's likely to cost less now that the Chargers have departed for Los Angeles. After SDSU's current lease expires next year, Faulconer said the city can't afford to keep it open.
"But this ending gives us a chance for a new beginning," he said. "I support this plan so we can leave something better for our kids. I support this plan as an Aztec alum (he graduated in 1990) who can't wait for SDSU football to finally have a world-class home it deserves. And I think, most importantly, I support this plan as a San Diegan who sees this rare opportunity for our city and wants to see what happens with this property is bigger than any one entity, and it's bigger than any one constituency. This is about the future of our entire city, which means we need balance."
SDSU is under some pressure to come up with a stadium plan: the Aztecs can play at Qualcomm Stadium in 2017 and Petco Park in 2018 while the new stadium is being built. So school officials will need to come upon with some sort of plan — and the city has made it clear keeping Qualcomm Stadium open at a loss is not an option.
If approved by the City Council, the FS Investors plan for a SoccerCity development will be put to voters on a November referendum. It requires only a simple majority to pass. As noted during the most recent update of our MLS expansion odds, decisions regarding expansion will likely take place after the scheduled date of the referendum. If San Diego does ultimately move forward with the referendum, it would become the latest city to provide voters with a ballot initiative for a proposal relating to MLS expansion. St. Louis voters rejected a proposal for city funding toward a new stadium earlier this month, while St. Petersburg voters approved moving forward on a proposed expansion of Al Lang Stadium.
RELATED STORIES: SDSU Ends Talks to Share New San Diego MLS Stadium; Report: SoccerCity Would Produce Millions in Annual Tax Revenue; FS Investors Submits SoccerCity Petitions; SoccerCity Proposal Could be Placed on November Ballot; SoccerCity Could Have an Annual $2.8 Billion Economic Impact; SoccerCity MLS Proposal Unveiled by San Diego Investors; San Diego, Tampa Bay Make Their MLS Cases; San Diego MLS Plan Unveiled; San Diego Close to Revealing MLS Pitch; San Diego Looks to Advance MLS Stadium Push; Residents Polled on New San Diego MLS Stadium; Padres Owner Among Potential San Diego MLS Leaders; San Diego Eying MLS Team