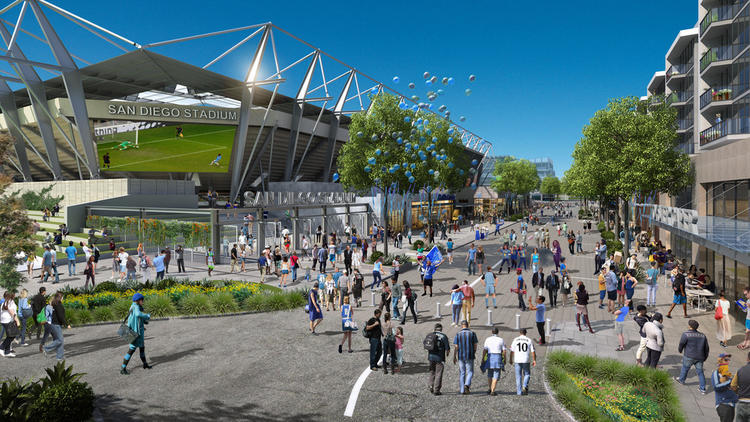 The SoccerCity development in San Diego could produce millions in local tax revenue, according to a report released by the proposal's backers.
Conducted by the San Diego Regional Economic Development Corp, the report found that when the full build out of SoccerCity is complete, it could produce an annual $8.2 million in tax revenues to city and county governments. As proposed, the development would include a new soccer-specific stadium for an MLS expansion franchise that could open by 2020, but the full build out of the mixed-use development is projected to take seven years.
This report comes as the group behind SoccerCity continues with the process that could lead to a voter referendum. Though the plan still has some hurdles to clear, it is expected to be included in a special election in November, when a simple majority of voters will weigh in on the project's development at the Qualcomm Stadium site in Mission Valley.
With this report coming on the heels of another positive economic forecast, FS Investors is continuing to cite the benefits of SoccerCity. More from The San Diego Union-Tribune:
The total would then grow over 45 years to a combined $43.5 million due to inflation and ownership turnover.
The findings add to a previous analysis of the project's economic impact that showed the project would generate 25,750 permanent jobs and $2.8 billion in additional goods and services.
Nick Stone, spokesman for La Jolla-based FS Investors, which is promoting the housing, office, retail and professional soccer stadium project, said the tax revenues exceeded earlier estimates.
"This is a win for taxpayers," Stone said at a news conference outside the Mission Valley branch library.
Currently, the more than 112,000 signatures from a petition drive on the project are being vetted by the county registrar of voters. If the petition includes the minimum number of verified signatures, it can then be considered by the city council, which has the authority to place the proposal on the November 7 ballot. San Diego is one of 12 contenders for an MLS expansion spot.
RELATED STORIES: FS Investors Submits SoccerCity Petitions; SoccerCity Proposal Could be Placed on November Ballot; SoccerCity Could Have an Annual $2.8 Billion Economic Impact; SoccerCity MLS Proposal Unveiled by San Diego Investors; San Diego, Tampa Bay Make Their MLS Cases; San Diego MLS Plan Unveiled; San Diego Close to Revealing MLS Pitch; San Diego Looks to Advance MLS Stadium Push; Residents Polled on New San Diego MLS Stadium; Padres Owner Among Potential San Diego MLS Leaders; San Diego Eying MLS Team