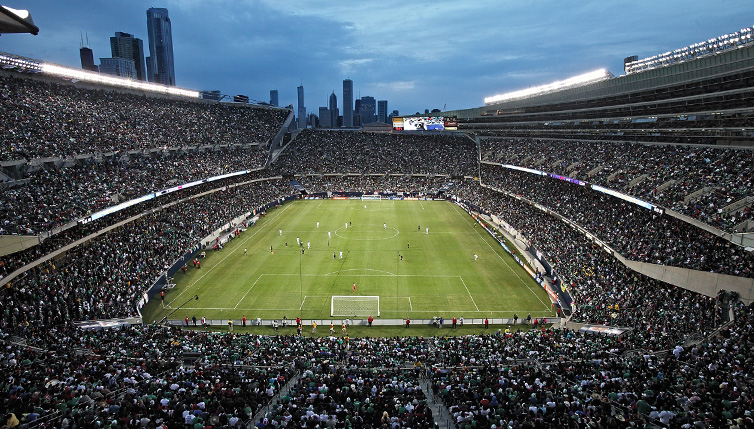 Real Madrid has been named the opponent for the 2017 MLS All-Star Game, which will take place at Soldier Field on August 2. 
The game will air at 8 p.m. CT on FS1, UniMás, TSN and TVA Sports domestically as well as across 170 countries globally.
Established in 1902, Real Madrid is one of the most successful clubs in the world, having claimed a record 32 La Liga championships and 11 UEFA Champions League titles, as well as capturing the UEFA Super Cup and the FIFA Club World Cup on multiple occasions. Under the direction of the legendary Zinedine Zidane, Los Blancos currently sit atop the La Liga table and are in the quarterfinals of the 2016-2017 UEFA Champions League tournament. The club is home to internationally renowned stars such as four-time Ballon d'Or recipient Cristiano Ronaldo, 27-year-old star Gareth Bale, and four-time La Liga Best Defender Sergio Ramos.
"It is an honor to represent Major League Soccer and to work with our League's great players in a match against one of the top clubs in the word," said Chicago Fire head coach Veljko Paunovic. "I know how special it is to compete against Real Madrid and I think our players and fans will also enjoy the experience."
This will mark the first time a team from Spain's La Liga will appear in the MLS All-Star Game. The MLS All-Stars have previously faced clubs from the England's Premier League, Germany's Bundesliga, Italy's Serie A, Mexico's Liga MX and the Scottish Premier League, owning an 8-4-1 record against some of the world's most decorated clubs.
Soldier Field, with a capacity of 61,500, has played host to some of the most exciting sporting and entertainment events in the world including CONCACAF Gold Cup matches, World Cup Qualifiers, 1994 FIFA World Cup matches, and last summer's Copa America Centenario. Not only has Soldier Field hosted a wealth of international soccer events, the venerable Chicago landmark also has a rich MLS legacy, as it was home to the Chicago Fire for the club's first four seasons, from 1998-2001, then again from 2003-2005. The Fire owned a 62-23-10 record (.705 winning percentage) in their home games at Soldier Field, a span which also includes the club's three appearances in MLS Cup.
In addition to the match, MLS will host nearly a week of events surrounding the game, including concerts, community service initiatives, player appearances, as well as an additional showcase match featuring the best young players from across the league.
Image courtesy concacaf.com
RELATED STORIES: Soldier Field Selected as Host for 2017 MLS All-Star Game