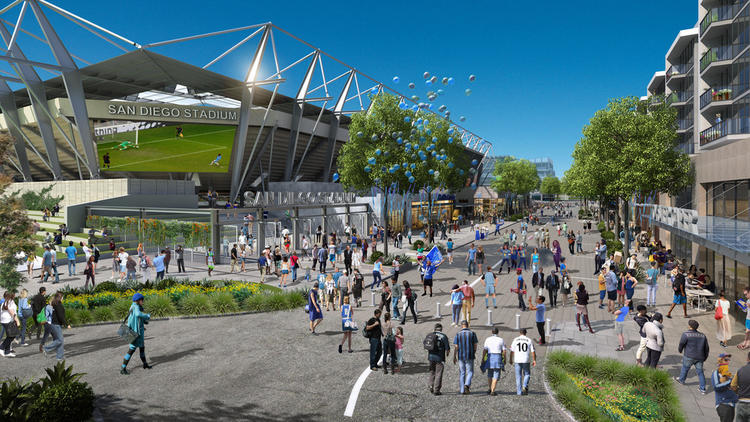 Signatures from San Diego voters for the proposed SoccerCity development have been submitted by FS Investors. This is another step in a process that could lead to a fall referendum on the project. 
As it makes San Diego's case for an MLS expansion franchise, FS Investors is proposing SoccerCity. Located at the site of Qualcomm Stadium in Mission Valley, the project calls for the construction of a new soccer stadium, along with a mixed-use development that includes housing, offices, retail, green space, and more.
In recent weeks, backers of SoccerCity have sought to build a consensus in favor of the project among city voters through a signature drive. The results of the signature drive were submitted to the registar of voters on Monday. With this step completed, the process of determining the project's fate will continue, and the city may ultimately decide to include the proposal in a referendum as part of a special election on November 7. More from The San Diego Union-Tribune:
La Jolla-based FS Investors said it delivered more than 500 boxes of petitions calling for a referendum with more than 112,000 signatures, well over what it believes will be more than enough to meet the city requirement for 71,646 city voters' signatures to place the item on the Nov. 7 special election ballot called for by Mayor Kevin Faulconer. A spokesman said about 12,000 signatures were deleted because they were clearly were not from city residents.
Registrar of Voters Michael Vu will now have 30 days to verify the signatures and report back to San Diego City Clerk Elizabeth Maland. The registrar's staff typically samples the signatures submitted and if 3 percent are deemed valid, a full check of all signatures would not be required.
"We are overwhelmed with the level of support this plan has received," said FS partner Nick Stone at a news conference outside the registrar's office in Kearny Mesa.
After the petition results are submitted at the City Council's next regularly scheduled meeting, it will then have 10 business days — probably by late-June — to approve the referendum or, as FS Investors has now requested, to send the measure to the voters. A simple majority of city voters will be necessary to pass.
As noted during the most recent update of our MLS expansion odds, decisions regarding expansion will likely take place after the scheduled date of the referendum. If San Diego does ultimately move forward with the referendum, it would become the latest city to provide voters with a ballot initiative for a proposal relating to MLS expansion. St. Louis voters rejected a proposal for city funding toward a new stadium earlier this month, while St. Petersburg voters are set to weigh in on a proposed expansion of Al Lang Stadium next week.
RELATED STORIES: SoccerCity Proposal Could be Placed on November Ballot; SoccerCity Could Have an Annual $2.8 Billion Economic Impact; SoccerCity MLS Proposal Unveiled by San Diego Investors; San Diego, Tampa Bay Make Their MLS Cases; San Diego MLS Plan Unveiled; San Diego Close to Revealing MLS Pitch; San Diego Looks to Advance MLS Stadium Push; Residents Polled on New San Diego MLS Stadium; Padres Owner Among Potential San Diego MLS Leaders; San Diego Eying MLS Team