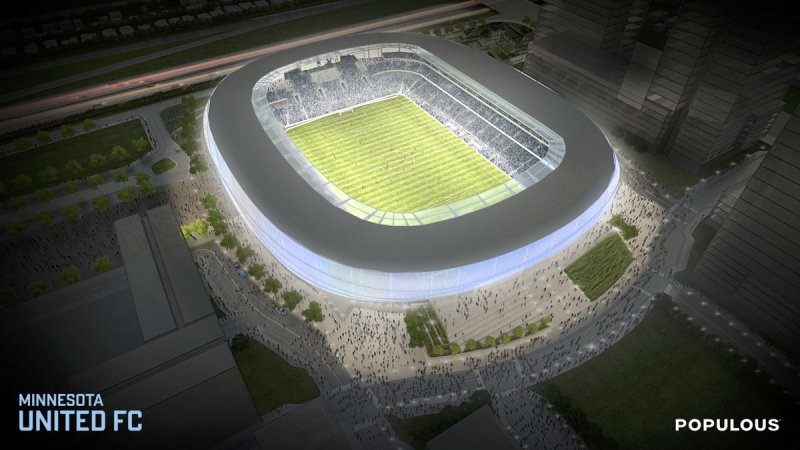 A property-tax exemption and a liquor license were approved as part of the end-of-session legislation passed by the Minnesota Legislature, as Minnesota United FC received most of the tax relief team owners were seeking this year, paving the way for construction of the new MLS stadium to begin this summer.
The property-tax exemption keeps the 10-acre stadium site at Snelling Avenue and I-94 off the tax rolls. The site had not been subject to property taxes for decades as the location of a bus-storage area owned by Metro Transit, but the move to lease the land to United for a new stadium would have meant it would be subject to taxation. The team is proposing a 20,000-seat stadium to open for the 2018 MLS season after a 2017 team launch in as-yet-to-be-determined venue (with Target Field or TCF Bank Stadium being the likely locales). There was never serious opposition to the measure, but anyone who has spent time at the Minnesota Legislation near the end of the sessions knows proposals can pass in and out of legislation, sometimes with no clue as to why. The exemption covers only the stadium and associated parking ramps not any other development happening as part of the construction. The stadium is positioned as a spur to additional development, as owners of the Midway Shopping Center — located next to the stadium site, closer to the corner of University and Snelling — plans to overhaul the 1950s-era strip mall with new housing, office and retail development.
The property-tax exemption for the new MLS stadium is enough for the team to begin construction of the new stadium, assuming Gov. Mark Dayton signs the tax bill.
Team ownership had also been seeking a sales-tax exemption on construction materials for the new stadium. However, the team can still apply for a rebate for the sales tax payments after construction is completed.
RELATED STORIES: Down to the Wire for New Minnesota MLS stadium; Minnesota United unveils St. Paul MLS stadium renderings; Populous to design new Minnesota United stadium; Minnesota United commits to new St. Paul stadium; New Minneapolis plan for Minnesota United FC stadium; Coleman, Abbott to meet over St. Paul MLS stadium; Pol: Use Twins ballpark tax to pay for Minneapolis MLS stadium; If not Minneapolis MLS stadium, then St. Paul; New for 2018 in MLS: Minnesota United FC