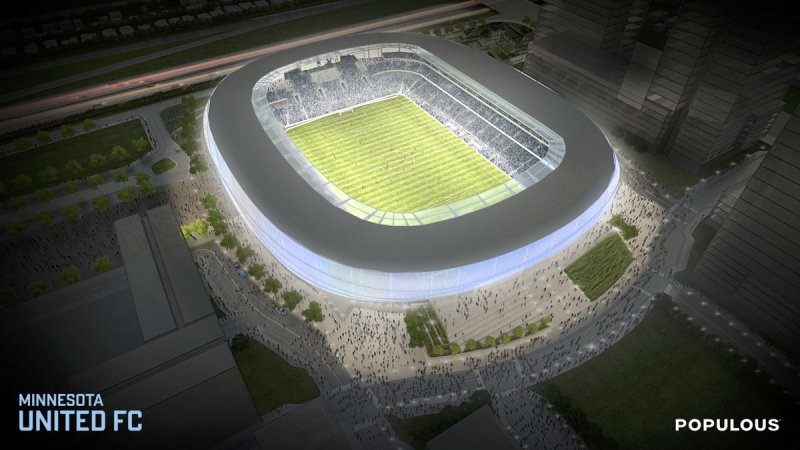 We're coming down to the wire for various governmental approvals for a new Minnesota MLS stadium, as proposals before the Minnesota Legislature and the St. Paul City Council are heading toward final decisions on a stadium site plan and taxation issues.
Individually, none of these proposals are especially controversial. But when put together, they're attracting opposition from legislators eager to rail against public subsidies for sports teams and neighborhood activists fearful of change. Minnesota United ownership is proposing a privately financed 20,000-seat, $150-million stadium on 12 acres of leased land formerly used as a Metro Transit bus storage area and is seeking three measures from the Minnesota Legislature: a property tax exemption, a sales tax exemption on building materials, and a liquor license.
Today the Minnesota Senate Tax Committee passed an omnibus tax bill that continues the site's property-tax exemption, and coming down the line will be an omnibus liquor bill before the Minnesota House that grants the team a liquor license.
The most controversial aspect of the Minnesota United ask: a sales tax break on construction materials. That's set to come up in conference committee, according to TwinCities.com:
"That's great news," bill sponsor, Sen. Sandy Pappas, told the Pioneer Press. "We certainly expected this. The soccer stadium is very popular on both sides of the aisle, and we think that as long as we have tax bills that are moving in the Senate, we have a really good chance to be in the final bill."…
While all six stadium and arena constructions or remodels in the Twin Cities have had property tax exemptions since 1998, half of those projects — U.S. Bank Stadium, Target Field and TCF Bank Stadium — had sales tax breaks granted on construction materials. CHS Field, Xcel Energy Center and Target Center's renovation did not have sales tax exemptions awarded.
The Minnesota Legislature is scheduled to be in session through May 23, so there is plenty of time for things to be added to and taken off legislation.
On a local level, the City Council and the Snelling Midway Community Advisory Committee are poised to discuss the stadium site plan. St. Paul is a very neighborhood-oriented city, so any recommendation from the advisory committee will carry weight down the road. But there is a disconnect: the committee wants to see a specific plan for the development around the new stadium, but there are no firm plans yet, as the specific development will depend on the marketplace. From the Midway/Como Monitor:
Some committee members balked at a city Department of Planning and Economic Development (PED) report they were given as a draft Planning Commission recommendation. The report will be rewritten before the committee votes May 26.
An ambitious master plan unveiled earlier this year shows high-rise office buildings along Snelling Ave., with housing at University and Pascal. It also includes green spaces between University and the planned stadium, hotels and mixed-use buildings. Parking ramps would be built into the buildings. But drawings McGuire showed Apr. 28 looked less dense, with smaller buildings closer to the stadium. McGuire said the plans were concepts to show different design scenarios. He and city staff said that while the stadium needs to be built by 2018, shopping center redevelopment is on a longer and more uncertain timeline governed by everything from existing center leases to the economic climate for redevelopment.
"We've repeatedly said these are concepts," [Minnesota United FC owner Bill] McGuire said. He said the center is set for redevelopment, "but it cannot all happen in two years."
Especially when Minnesota United doesn't control the scenic Midway Shopping Center, isn't directly in charge of the development and tenants there have been told they won't need to move until their leases are up.
RELATED STORIES: Minnesota United unveils St. Paul MLS stadium renderings; Populous to design new Minnesota United stadium; Minnesota United commits to new St. Paul stadium; New Minneapolis plan for Minnesota United FC stadium; Coleman, Abbott to meet over St. Paul MLS stadium; Pol: Use Twins ballpark tax to pay for Minneapolis MLS stadium; If not Minneapolis MLS stadium, then St. Paul; New for 2018 in MLS: Minnesota United FC