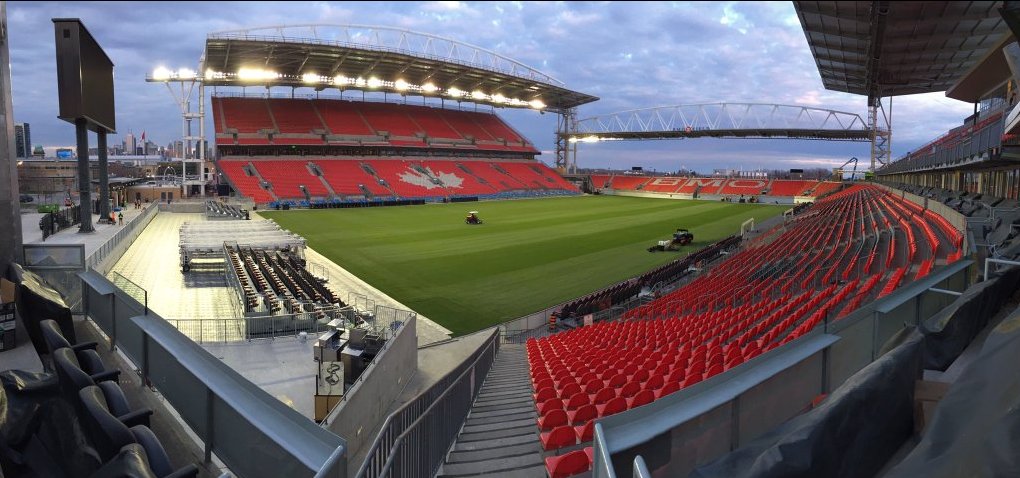 Toronto FC is expecting a capacity crowd for its season opener Saturday to experience BMO Field upgrades, as three years of renovations are yielding what team officials are billing as a practically new stadium.
Maple Leafs Sports & Entertainment embarked on the current building project to handle both the Toronto Argonauts (CFL) and Toronto FC, as well as larger events like the Grey Cup and potential World Cup matches. The all-grass field is in place, and most of the work on the stadium is done (more on that later). From the Toronto Sun:
For fans who haven't been to BMO Field since last October, prepare to feel like you're entering a new stadium for the first time since TFC's inaugural season.
"When we built BMO Field in 2007, we knew we'd have to reinvest over time, but never thought we'd be able to convince our owners to make the type of long-term investment that they have," said Bob Hunter, MLSE's chief project development officer.
"It's a whole new stadium. We (various levels of government) paid $62 million back in 2007. With the Argonauts, we're reinvesting almost $150 million."
Throw in the roughly $100 million in contracts doled out to three DPs and MLSE has invested around a quarter-billion dollars in TFC players and facilities.
There are still more renovations down the road, but they're considered to be minor in the grand scheme of things. The north end of the stadium will be finished off with suites and party decks, and for now fans will be able to watch the action from what is the Argos' end zone.
The $150 million may be considered a construction cost, but it's also a marketing cost. MLSE has had the reputation of not responding well to fan concerns, and the investment in BMO Field — as well as upgrades on the FC roster — should be perceived by fans as a serious commitment. MLSE is on somewhat of a roll, as the Toronto Raptors are in the second round of the NBA playoffs. All that's needed: a home run in the upcoming NHL draft for the Toronto Maple Leafs.
Image courtesy Toronto FC.