With Minnesota United FC and Miami FC working on new stadiums to fulfill the terms of their expansion bids, attention now turns to the next round of MLS expansion in 2019 and beyond, as plenty of investment groups are interested in securing one of four new teams down the line.
It was a pretty spirited competition in the last expansion round, as the league adds Atlanta, Minnesota, Los Angeles and Miami to the circuit in coming years. And with the long-term goal to add four more teams — putting MLS at 28 teams — investors and cities are lining up to present solid pitches once that process begins.
Here's a look at the contenders, based on some discussions with league insiders over the past few weeks:
Sacramento
It's no secret that Sacramento has been a leading market when it comes to MLS expansion — so much in the lead that MLS Commissioner Don Garber has scheduled a Sacramento visit for this week to review stadium plans with Republic FC management and meet with investors.
While the plans for a $224-million privately financed stadium are not final, there's no doubt from Sacramento Republic FC managing partner Kevin Nagle and the other team investors have MLS as the ultimate goal: you don't spend that sort of money on USL, which is where Sacramento Republic FC now completes. (No offense, USL.) But with an investment group that can handle both a new stadium — which has become a checklist item for MLS officials — and a $100 million expansion fee, it's no surprise Garber is set for a visit.
San Diego
It's safe to say six or eight months ago San Diego wasn't on anyone's radar for MLS expansion.
But one thing changed: a potential San Diego State University stadium that would be shared with an MLS team at the current Qualcomm Stadium site. Now, a lot of things would need to happen before John Moores and crew launches a new stadium there — basically, the San Diego Chargers would need to be successful on a new downtown stadium — but things are headed in that direction. There is enough investor interest as well to move things along.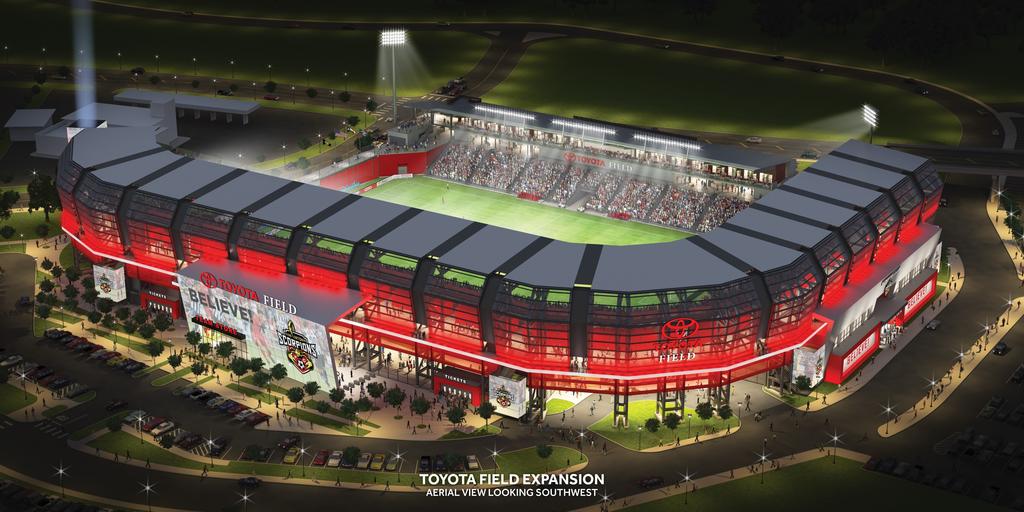 San Antonio
Gordon Hartman has talked about a MLS upgrade for his NASL San Antonio Scorpions before he sold Toyota Field and suspended the team.
Today, those MLS dreams are being fueled by some pretty large players: the city and county bought Toyota Field, and Spurs Sports and Entertainment (SSE) committed to a lease as well as efforts toward landing an MLS franchise. SSE is running a USL team for now, but the lease calls for penalties if an MLS franchise —  as well as money for a Toyota Field expansion — is not procured.
For SSE, San Antonio's market size and a potential Mexican fan base are powerful financial incentives toward working on an MLS expansion team, per the Guardian:
"Lots of times I think people don't put the city of San Antonio as one of the seventh or eighth largest in the country. Its proximity to Mexico is kind of exciting," says Bobby Perez, an SSE senior vice-president. The group also operates WNBA, NBA development league and AHL ice hockey franchises
"We've been watching the growth of the sport not only nationally but locally, which has been evident since the Scorpions started [in 2012]," he adds. "The opportunity presented itself and it's something we'd been studying for some time … Our next step is to try to get this off the ground then work with MLS to find out what their exact plans are."
St. Louis
When the St. Louis Rams abruptly departed for Los Angeles, the path was opened for some sort of funding for a new downtown MLS stadium. Business leaders had already put together a funding plan of sorts for a billion-dollars-plus riverfront Rams stadium, and some elements of that plan, including a site, can be applied to a new MLS stadium. With investors in place, the issue will be closing the deal on that new stadium.
Cincinnati
The game plan for FC Cincinnati investors is to establish the brand in USL play, followed by a potential move to MLS down the line.
That game plan lacks something MLS officials stress: a new stadium, as the team has a 15-year lease at Nippert Stadium, the football facility run by the University of Cincinnati, although there are some outs after the first five years.
And FC Cincinnati President and General Manager Jeff Berding says he can make a strong case to bring an MLS expansion team to Nippert Stadium. From the Cincinnati Enquirer:
"You have Orlando City drawing over 30,000 people per game their first year in MLS. You have New York City FC drawing over 30,000 their first year, so why would you want to go build a 20- to 25,000-seat stadium when you have a 40,000-seat stadium," said Berding. "We understand that one of the requirements (for MLS) will be a winning venue, and we're making improvements at Nippert to have a winning venue.
"We think Nippert works quite well, and we believe it would work quite well for MLS if we were ever to get that opportunity," Berding said. "And are we aware that there's an effort to build soccer-only stadiums? Of course we are."
Given that other expansion groups have a new stadium as the centerpiece of their plans, Berding and lead investor Carl Lindner III may end up changing their minds down the road.
Charlotte
The Charlotte Independence loses money and lacks a permanent home, but team owners say MLS is on their radar. It will probably take some sort of public funding and some additional deep-pocketed folks added to the ownership group, but there is a game plan of sorts, as 21,000-seat Memorial Stadium could potentially be retrofitted for MLS soccer.
Oklahoma City
The owners of USL's OKC Energy FC say MLS is their ultimate goal, and with an expansion in the works, part-owner Bob Funk, Jr. was pretty clear in that he wants to see Major League Soccer there, per KOCO-TV:
"The community support for us is so important for our overall goal which is to get to the MLS." he told KOCO. "That's something we're aspiring to and striving for and something we really want to attain and we've got to have everyone on board pulling in the same direction to get there.
"We are trying to take a very measured approach in how we get to our overall goal. We're aspiring to get to the MLS. There's no guarantee we're going to get there. There are a lot of things that have to fall into place."
The big challenges: Oklahoma City's relatively modest market size and the lack of any new-stadium plan.
First two images of proposed Sacramento stadium courtesy Sacramento Republic FC.